Dirty Dozen battle for Europe and break SPL record
Motherwell and Hibernian's 12 goal thriller breaks SPL records for most goals scored in a game.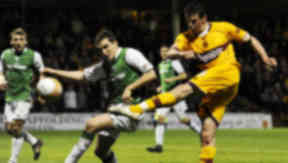 Motherwell and Hibernian will go down in history after a 12-goal thriller at Fir Park broke the records for highest number of goals in the Scottish Premier League in a battle for the final Europa League place. Both teams went all out for the win but had to settle for a 6-6 draw after a spectacular comeback from Craig Brown's men from four goals down.
Hibernian looked to be coasting to victory by half time after forging a 4-1 lead thanks to a Colin Nish hat-trick and a Derek Riordan strike, with Well's Gilles Coke netting for the home side. Motherwell pulled one back with a John Sutton headed goal, but with Motherwell fans opting to leave the ground Anthony Stokes netted a quick-fire double to send his side 6-2 ahead and seemingly extinguish any chance of a comeback.
At least that's what the exiting fans must have thought, but Brown had instilled a sense of belief and fight in his squad and with just 23 minutes remaining Motherwell were on the rampage and buckled the Hibs defence under the relentless pressure.
Coke and Sutton both doubled their tally and Tom Hateley's free-kick made it 6-5 before the Steelmen were awarded a penalty. Their last-gasp comeback looked to be doomed after Forbes missed the 87th minute penalty, awarded after Jutkiewicz was pulled down by keeper Smith. However, Jutkiewicz scored a spectacular injury time volley to seal the draw and keep Motherwell one point ahead of Hibs in the coveted fourth place.
MOTHERWELL V HIBERNIAN:
The 12-goal battle for European football next season broke the previous record for most goals in an SPL match. Curiously, that was also set at Fir Park with Motherwell losing 6-5 to Aberdeen back in 1999.
The goalkeepers who let in 11 goals between them are arguably two of Scotland's greatest – Jim Leighton and Andy Goram. The match was also Aberdeen's first win of the season after losing their opening seven games and remarkably failing to score in six of those. The Dons were also coming off the back of a humiliating 7-0 defeat to Celtic just days earlier.
Billy Davis was in charge of Motherwell and watched his side score five times and still emerge losers against Ebbe Skovdahl's Dons side. John Spence netted a hat-trick for the home side before Robbie Winters achieved the same for Aberdeen along with goals from Andy Dow, Eoin Jess and Paul Bernard. Motherwell's Don Goodman and Shaun Teale pulled two back but it wasn't enough for the Fir Park side.
Unbelievably, Aberdeen failed to manage another success on the road until February and finished bottom of the league despite reaching two cup finals; staving off relegation thanks to the expansion of the SPL to 12 teams.
Meanwhile Motherwell went on to win six of their next seven matches including home and away wins over Celtic.