Hearts fail to pay six players and manager their September wages
STV understands the Gorgie club are in the process of informing the SPL of the delay.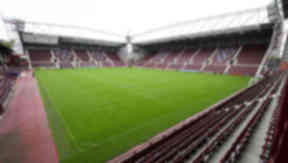 Hearts have failed to pay all of their first team players on time for the second successive month.
STV understands six of John McGlynn's squad are yet to receive their September salaries, which fell due on October 16. The manager is also yet to receive his wages.
The matter will be discussed at a scheduled meeting of the SPL board on Monday.
As per league rules, it is understood the Gorgie club are in the process of detailing in writing to the SPL which players have not been paid. It is understood they have already notified the league verbally.
Regulation A6.22 states Hearts have two days to tell the SPL who is yet to receive their salary, as well as detailing the amount outstanding.
Hearts are already subject to a signing ban, automatically imposed by the league when they failed to pay salaries on time in September.
Rule A6.21 outlines it is now a breach of league regulations not to pay players in line with their contracts.
It states: "Except in circumstances where there is a bona fide dispute as to liability for payment by the Club, where the Club is entitled to deduct or otherwise withhold payment of a sum otherwise due or where the Club takes, suffers or is subject to an Insolvency Event, any Club which shall fail to pay any sum due by it to a Player under and in terms of that Player's Contract of Service and/or any sum due by it under a contract of employment to any Club Official engaged in football management and/or football coaching (a "Remuneration Default") shall be in breach of these Rules."