Mark Reynolds scores a rare goal as Aberdeen thump St Mirren
The former Motherwell defender scored the last of his side's four goals in Paisley.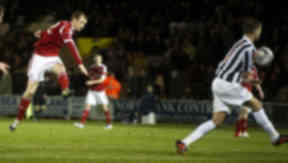 Aberdeen's four-goal haul at St Mirren was completed by a rare goal from defender Mark Reynolds.
Reynolds, who joined the Dons during the summer transfer window, hadn't been on the scoresheet since April 2010, carried the ball from defence to attack before thumping in a shot from 22 yards to make it 4-0.
A consolation from Steven Thompson for St Mirren didn't stop Aberdeen taking three points from the match and the Dons moved level on points at the top of the table.
After the match, Reynolds was less keen on taking personal plaudits than appealing for more protection to be afforded to young talent Ryan Fraser.
"I don't think it's deliberate and guys are just going in looking to win the ball, Ryan's that quick though that he's getting caught late and it's happening every week," said Reynolds.
"One of these days he's not going to be so lucky and get his foot off the ground - he could end up with a broken leg.
"It's one of the benefits of youth that he's never been hurt and probably feels immortal, but one of these days he's not going to be so lucky and end up with a sore one.
"I don't know what can be done to protect him, the referees are playing to the law and the guys going into the tackles are honest enough."