Scott Brown set for surgery as Lennon says skipper 'has run his course'
The Celtic midfielder could miss the next 10 weeks as he seeks an end to a long-term hip injury.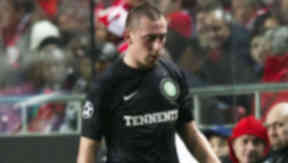 Scott Brown could undergo an operation in an attempt to resolve a long-standing hip injury.
The Celtic captain started his side's 2-1 loss to Benfica on Tuesday night, but struggled off the pitch in obvious discomfort in the 64th minute as the problem again flared up.
Brown could spend up to 10 weeks out of action if the decision is taken for him to go under the knife, something his manager Neil Lennon says will be decided upon in the coming days.
"Scott Brown has run his course, we may have to book him in for surgery," the Celtic boss said. "We are looking at eight to 10 weeks.
"He has been pushing himself to the limit and we can't keep asking him to put himself through the amount of distress that obviously he was doing towards the end of his time on the pitch.
"He has been a huge player for us this season, I think it is time to get the problem addressed and hopefully he will have something to look forward to in the new year."