Talks over fan ownership at Hearts 'encouraging' but process will take time
Paul Goodwin discusses 'various models' of supporter-led ownership with Tynecastle club.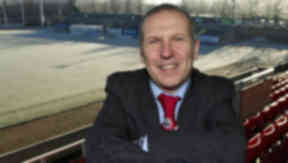 Scotland's man in charge of championing fan ownership of football clubs believes talks with Hearts are going well – but insists that getting supporters involved with running the club will take time.
Paul Goodwin, head of Supporters Direct, a government-backed body charged with helping more clubs become fan-owned, met with the Tynecastle hierarchy again on Wednesday.
At the meeting he discussed various different models of bringing Hearts fans on board to help own and run the club but he warned that results will not come overnight.
Goodwin said: "We're moving in the right direction. This is not going to be a quick process.
"It's a bit like building a house, you have to start off with the planning permission, get the foundations laid and then build it.
"It's going to be a staged process and it is moving in the right direction.
"We have had quite a few meetings with Hearts over last month or six weeks and every time I feel there's movement to embrace this process.
"We are working with Hearts to try and develop various different models, it is being taken very seriously by the club and I'm encouraged we are being given the time to come in and discuss those models."
With Hearts turning down offers to buy the club in the past two weeks, Goodwin reiterated that Supporters Direct deal with the Edinburgh club, not other parties, to come up with the plan.
The Foundation of Hearts, led by businessman Alex Mackie, wants to buy the club for the supporters while former Livingston owner Angelo Massone had a £4.5m bid rejected.
Goodwin said: "We are just the facilitators to allow Hearts to develop a plan for fan engagement and we will talk to any bodies that embrace fan ownerships.
"That's our starting point but we will not get involved in deals with individuals or any parties. We are trying to build something with Hearts that we can eventually take out to the fan base."
Hearts fans have raised more than £600,000 by buying shares since the club sent out an SOS to supporters over the perilous financial situation at Tynecastle.
With a fans' fundraising rally coining in £27,500 for the cause and online supporters website Jambos Kickback breaking the £20,000 mark to go towards shares, the talks with Goodwin will focus on what returns Hearts fans can expect for their loyalty.
He added: "That's why we are here – we are the starting point of those discussions.
"The encouraging thing for me is that is has started on that basis – what are the fans getting back for the money they are investing now?
"It has now moved on to a bigger platform and hopefully there's a chance for even more involvement for the fans."