Scott Brown to delay hip operation to feature in Celtic's Euro decider
The club captain will go under the knife after the match with Spartak Moscow on December 5.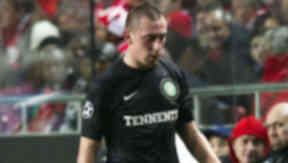 Scott Brown will delay an operation on his hip until after Celtic's decisive Champions League tie with Spartak Moscow.
The captain was expected to go under the knife to try and cure the long-standing problem, having been substituted in some discomfort during his side's 2-1 away defeat to Benfica.
Following tests this week, Brown will now continue to manage the injury until the match on December 5, after which he will have the operation and miss the following eight weeks of the action.
In the meantime, the former Hibernian midfielder will come into contention for Celtic's weekend match against Inverness Caledonian Thistle.
"Scott Brown is in contention to play tomorrow remarkably," his manager, Neil Lennon, said on Friday. "We will refer him after Moscow and see how he is.
"The problem is we don't have the time to let him settle down. Looking at the condition, it normally requires surgery.
"The problem on Tuesday night was he was just out of condition a bit because he has not been training.
"He has trained in the last couple of days and we are doing some physical work and see what reaction we get.
"He would miss maybe the majority of December and January and have him back in February, but we do have a two-week winter break in January."
Lennon added: "We are not making the condition any worse, the only problem is it's not getting any better. The medical team feel surgery will fix the problem, and when we do it is coming closer.
"It's not hampering when he plays, it's just the reaction he gets after games where he is in a lot of discomfort for two or three days, and it seems to fluctuate from game to game.
"If I could get a Brown who played in the first three games of the [Champions League] competition then I would be delighted with that. That's what we are going to aim for.
"We have known going into some games that he couldn't last the 90 minutes but we have taken that chance because he is such an important player.
"But obviously we would like him feeling completely free going into these games and that's why we are upping his condition work a bit to see if we can get him peaking for the Moscow game if we can."