Neil Lennon left angry after confrontation with Celtic fans
The Hoops boss says he will quit if supporters aren't happy with him.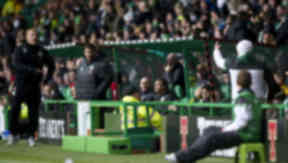 Celtic manager Neil Lennon was left angry after a confrontation with fans during his team's 1-0 defeat to Inverness CT.
Billy McKay's goal gave the Highlanders all three points and during the game Lennon was involved in a disagreement with supporters close to the dug out.
The Parkhead side remain top of the SPL table, a point ahead of Aberdeen having played one game less than the Dons.
However speaking about the incident the Hoops boss said: "They are frustrated. I disagreed with them, I didn't like what they said about the team.
"Look, if they are not happy with what I am doing and they want me to go, I will.
"If the fans make it clear that they are not happy and they want me out then that's okay, I will do the honourable thing.
"I can't repeat it (what fans said) because it is public arena but there were a lot of expletives and heavy criticism, which I didn't think was justified and (there was) a lack of patience with the team as well.
"If there was a lack of application and commitment I would be the first to criticise the team.
"I didn't see that today but I did see a lack of composure and quality in the final third and that's what cost us.
"If I think it is justified then I don't have a problem with it but I don't think it was justified today.
"But they pay their money, they are allowed to say what they like. I've got my opinions on it and sometimes I give them as well.
"I am not happy with the league form, it is my team at the end of the day so I take the responsibility for it.
"It's not for the lack of trying to find the answers."