'Putting my passport in the washing machine led to Ross County return'
Neale Cooper took up the post as assistant at Victoria Park after fate conspired in his favour.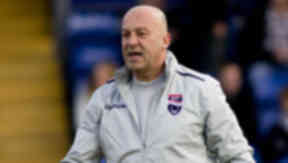 Neale Cooper has revealed a misplaced passport aided his return to Ross County as assistant boss.
The former Staggies manager took up an offer from Derek Adams to return to Victoria Park last week, having recently quit his post at Hartlepool United.
Cooper said he had lost enthusiasm for the game through his spell in League One and was planning to spend time abroad to recuperate.
"It's all quite funny because I was meant to be going away abroad, but I couldn't go because I put my passport through the washing machine," he told STV.
"Sometimes in life things like that happen. I might have been away when the call came."
Cooper left Hartlepool United after failing to find the motivation for the post, with Pools sliding towards relegation to League Two.
"I'd been up and down the road sorting stuff out in Hartlepool, moving stuff to Aberdeen," he said. "Then I got a call from Derek asking if I would like to come up and watch training for a couple of days.
"To be quite honest, I wasn't in the best of moods to go back into football. But I watched the lads here for two days and I was blown away by the place, the setup, the manager and the lads.
"It gave me a really big lift. I came back up and then he put this proposition to me of whether I would like to come and be his assistant. I felt honoured."