Ally McCoist: Rangers have started work on next season's signings
The Rangers manager is keen to add new players and has begun scouting targets.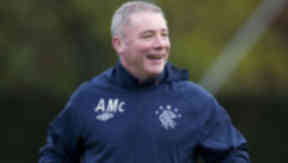 Ally McCoist has said that he has begun work on identifying players that he wants to take to Ibrox next season.
Rangers are currently restricted from signing players under a registration embargo imposed by the Scottish FA but will be able to add new faces from September 1, 2013.
McCoist revealed that he had been discussing players with scout Neil Murray and that they had focused attention on players who would be out of contract next summer.
Transfer rules permit players to sign pre-contract agreements six-month before the expiry of their current deal, meaning players could agree moves to Ibrox early in the new year and complete their registrations in September.
"We're obviously working with Neil [Murray] at the moment and we're looking at free transfers and players that will be out of contract in the summer," McCoist explained.
"It does give us the opportunity to be ahead of schedule in terms of signing players and that would obviously be a big plus."
However, the Rangers manager admitted that uncertainty over what level the club would be playing at meant there was an unusual aspect to talks.
"The downside is that at this moment in time you don't know what league you're going into so you're faced with a problem we were dealing with last season," he said. "We're probably trying to entice players to come to a league that ideally they wouldn't want to play in.
"At this moment in time we don't know what league we're going to be in.
"We're hopeful it'll be SFL 2 through promotion and there's still the possibility, I believe, of league reconstruction. I would imagine time is running out for that to be next year but it's probably on the cards.
"Certainly at the turn of the year, we're working on it already actually, we're looking at players that we can strengthen with next year."