Good things come in threes for Mario Gomez and Chilean miners
That there was a Chilean miner with the same name as Bayern's Mario Gomez was a coincidence. What followed next is beyond explanation.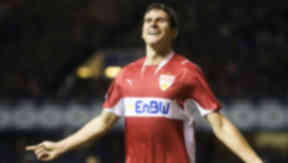 Anyone watching the rescue of the 33 Chilean miners after their 69-day ordeal trapped underground could easily take inspiration from their salvation. But, in Germany, the story of one of Bayern Munich's outcast players taking encouragement from the permutations is, quite frankly, mind boggling.
Depending on where you are in the world, Mario Gomez was either one of the miners freed last Friday, or he is a German international striker who is the most expensive transfer in Bundesliga history, at £26.3 million, yet hadn't found the net for his team since February.
The fact the two share a name was merely one minor coincidence until Saturday when, a day after the Chilean Gomez was freed, the German version dug himself out of his own hole.
From nowhere, the Bayern player scored all three in his team's 3-0 win over Hanover 96, citing the emergence of his namesake unscathed from the mine as the explanation behind his resurgence. It was, as he said, "a sign of destiny".
But the coincidences don't end there. Gomez's shirt at Bayern is number 33, the same number of miners who were trapped in Chile. Extending the number three quirk further, miner Gomez was the ninth miner freed, divisible by three, and, of course, striker Gomez scored three.
"I must thank the people of Chile," said Gomez after suddenly returning to form. "When I saw that one of the first miners brought to the surface was called Mario Gomez, I knew that it was going to be my match.
"These goals are a sign of destiny. 33 miners were saved, I wear shirt number 33 and I scored three goals."
Gomez, out of the picture at Bayern until fate also conspired to see regular picks Ivica Olic and Miroslav Klose sidelined with injury, is expected to now lead the line for the German side in their Champions League game with CFR Cluj this week.
THE WORLD OF FOOTBALL SUPERSTITION