Elgin City chairman faces SFA disciplinary over Rangers ticketing fiasco
Graham Tatters alleged to have acted 'against the best interests of the game' by over-selling briefs.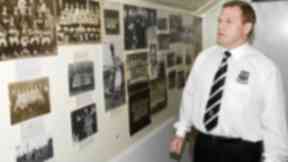 Elgin City chairman Graham Tatters has been issued with a disciplinary notice from the Scottish FA over the club's ticket fiasco for the visit of Rangers.
The match between the clubs scheduled to be played at Elgin's Borough Briggs on Sunday, November 25 was cancelled by police after it emerged too many tickets had been sold.
Around 1100 tickets above the ground's 4520 capacity were shifted to fans, forcing police to acft on safety grounds.
Elgin were fined £25,000 by the Scottish Football League for the episode but Mr Tatters will now also be called to account by the SFA.
He has been charged with breaching rule 71 of the association, "not acting in the best interests of association football".
The notice states Mr Tatters did this "by knowingly distributing tickets for the above match in excess of the maximum capacity of the ground at which the match was scheduled to be played".
The Elgin chairman has until Wednesday, December 12, to respond to the disciplinary notice.