Ally McCoist 'fully supports' decision not to take support to Tannadice
The Rangers manager has said he is in full support of the club's decision to refuse tickets for the Scottish Cup tie.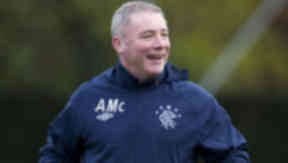 Rangers manager Ally McCoist fully supports the decision of the club not to take tickets for the Scottish Cup tie at Dundee United.
The clubs were drawn together on Monday, and Rangers supporters were quick to announce their intentions to boycott the match, in response to statements made by Stephen Thompson when the Ibrox club were enduring their summer troubles.
The club listened to the support and have decided not to take up any tickets for the tie. However, while McCoist fully supports the decision, he knows that it is far from perfect.
He said: "It's certainly not an ideal situation. It goes without saying that we're enjoying our best support in terms of numbers and backing in many a year.
"The club have taken this stance and it's obviously one that I fully support as well. In an ideal world we'd have backing from our support."
The decision was taken after supporters' groups made their feelings on the issue clear; feelings which were further inflamed by the memory of Dundee United refusing to refund supporters for a postponed match in 2009.
He continued: "We were in heavy discussions with Charles, Andrew Dixon and heads of fan groups. Once the club decided to take the stance that the vast, vast majority of supporters had, and the club decided to support that stance, I was obviously 100% behind that myself."
Former Rangers manager Walter Smith suggested that there was still work to be done on the relationships between the club and other members of the Scottish football fraternity, a feeling shared by McCoist.
He continued: "I would agree with what Walter said there, but I would also add to it that I hope the wounds could heal as quickly as possible.
"All we wanted was and opportunity to get back playing and take our punishment and I feel to a large degree that is what we are doing. There are scars and there are woulds that are needing healed, but I'd be very hopeful that they can heal sooner rather than later."