'We won't divulge clubs' debts without permission', HMRC tell SFL
The SFL's plans to work with HM Revenue and Customs on a financial early warning system appear to be impractical.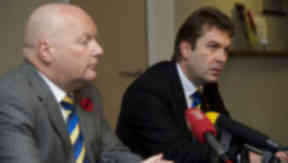 HM Revenue and Customs have dealt a blow to the Scottish Football's League plans to implement a financial early warning system. The SFL, who on Monday deducted Dundee 25 points for going into administration, announced in a statement on the First Division club's fate that it would intervene in the affairs of any member club found to not be paying tax in the future.
To do so, the SFL said they would step in "if advised by HMRC that clubs are defaulting on their obligations". However, STV has learned it is not legally possible for the taxman to inform the league if a club falls behind on its payments.
Dundee were placed into administration on October 14 after failing to foot a £420,000 tax bill, with HMRC being described as being keen to "get tough" on clubs who were racking up debts with them.
That sentiment was echoed by the SFL on Monday, as clubs were criticised for treating their "HMRC obligations as something akin to a credit card". However, plans to implement an early warning system in conjunction with HMRC are possibly impractical.
The only circumstance under which HMRC could share the tax status of clubs with the SFL is if every member club, present or future, informs the tax man that they are waiving their right to confidentiality in that particular circumstance.
 
A spokesperson from the government department confirmed: "HMRC has a strict statutory duty of confidentiality and cannot disclose details with regards to the tax position of any business – football club or not – without the consent of that business or otherwise by law."
In fact, the SFL retains the power within its own regulations to perform spot checks on the financial records of its member clubs. Rule 23 states that "all members and associate members shall keep detailed financial records of their activities and the Board may arrange an inspection of all such records with particular reference to (but without prejudice to the generality) turnstile arrangements and record keeping."
However, its statement on Monday, the governing body made no reference to its own rules, instead stating it was looking to reserve the right to step in at clubs on the say-so of HMRC, information which will not be forthcoming.
The SFL stated it had a mandate from its clubs to implement such a system. However, it would only apply to specific clubs if each agreed on an individual basis for their information to be shared.
The SFL were unavailable for comment when contacted on Monday evening.
DUNDEE IN ADMINISTRATION