Dates confirmed for Celtic's Champions League last clash with Juventus
Neil Lennon's side welcome the Italians on February 12, before going to Turin on March 6.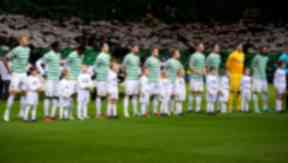 The dates for Celtic's tie with Juventus in the last 16 of the Champions League have been confirmed by UEFA.
The SPL side welcome their Italian opponents to Glasgow on Tuesday, February 12.
The away leg, played in Turin's Juventus Stadium, will take place on Wednesday, March 6.
Manchester United will travel to play Real Madrid on Wednesday, February 13, before a home tie on Tuesday, March 5.
Arsenal meanwhile welcome Bayern Munich on Tuesday, February 19, before travelling on Wednesday, March 13.
Valencia's tie with Paris Saint Germain will be played on the same dates as Celtic.
Full fixture list for the last 16 of the Champions League.
Tuesday, February 12
Celtic v Juventus
Valencia v PSG
Wednesday, February 13
Real Madrid v Manchester United
Shakhtar Donetsk v Borussia Dortmund
Tuesday, February 19
Arsenal v Bayern
Porto v Malaga
Wednesday, February 20
Galatasaray v Schalke
Milan v Barcelona
Tuesday, March 5
Manchester United v Real Madrid
Borussia Dortmund v Shakhtar Donetsk
Wednesday, March 6
Juventus v Celtic
PSG v Valencia
Tuesday, March 12
Barcelona v AC Milan
Schalke v Galatasaray
Wednesday, March 13
Bayern Munich v Arsenal
Malaga v Porto