Scott Brown gives STV's Keith Downie a soaking on live broadcast
Sports reporter becomes a victim of the Celtic skipper's patented #broonybanter.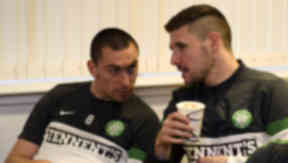 The pitfalls of live television are many. Never work with children and animals they say – perhaps Scott Brown can now be added to that list.
STV sport reporter Keith Downie was live at Celtic's Lennoxtown training base to gauge reaction to the draw for the last 16 of the Champions League when he befell the infamous "Broony Banter".
The Hoops' skipper was in impish mood as Keith delivered his script back to the studio, first pelting our man with bits of paper, then squirting water on him.
"Scott Brown is soaking me with water here….at least I hope it's water," he joked.
Celts stars Gary Hooper and Anthony Stokes certainly seemed to enjoy the prank.
It raised a few smiles around the STV office too.