Neil Lennon on Celtic's Champions League tie with Juventus: 'It's a beauty'
The Celtic manager has described the last 16 meeting with the Italian champions as "a fantastic draw".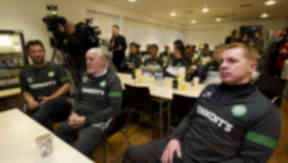 Neil Lennon has said that Celtic drawing Juventus in the last 16 of the Champions League sets up a "fantastic" tie.
The Scottish and Italian champions were paired at the draw in Nyon and will meet at Parkhead on February 12 before the tie is settled in Turin on March 6.
Lennon was enthused by the prospect of playing the Serie A stars and was relishing pitting his wits against manager Antonio Conte.
"It's a fantastic draw," Lennon told STV. "It's tough but in terms of glamour they don't come much bigger than Juventus with their great history in European football and their great tradition as a football club.
"In the last 18 months they have been very impressive so in terms of toughness, we couldn't have had a tougher draw.
"It's a beauty. In footballing terms it's one the best tactical teams and it'll be a good tactical game over the two legs. Hopefully we can get a good foothold in the first game and have something to take to Turin."
Lennon admitted that one of the threats to his side was a player he had met on the pitch himself five years ago. Andrea Pirlo pulls the strings for Juventus in midfield but Lennon came up against him when he was a Milan player.
"He's a marvellous player," the Celtic manager said. "He had a great European Championships with Italy.
"I actually played against him in my time under Gordon [Strachan] against AC Milan in 2007. He's a wonderful footballer and he makes a lot happen for them.
"They're littered with class players. They beat Chelsea comfortably 3-0 at home and there's not many teams can do that so we know how difficult it is."
Celtic were written off by some ahead of the group stage before beating the odds but Lennon said that his players were changing people's minds with their performances.
"I think there is a great belief and I think that's what got us through the group," he said. "I think people's perception of Celtic is changing as the tournament has gone on.
"Maybe before today people would have said in Celtic v Juventus that Celtic have no chance but now they're thinking there's a better chance than first imagined.
"In six or seven weeks time you don't know who's going to be fit or what stage the squad is going to be in so we'll try and time everything right for those two games."