Rangers manager Ally McCoist looking forward to spending transfer funds
Chief executive Charles Green has promised his manager money to spend when the registration embargo is lifted.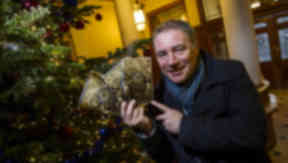 Rangers manager Ally McCoist has welcomed news that he will be given money to spend on players next year and vowed to spend it wisely.
Chief executive Charles Green has claimed that he will hand his manager at least £10 million to improve his squad in 2013. Rangers are currently under a registration embargo until September 1.
McCoist said new faces would be needed as he plans the club's progress from the Third Division upwards.
"A minimum of £10million is certainly encouraging because we will have to spend in terms of our natural progression," he said.
"It would be very, very pleasing for us to have that money to use.
"At the same time, we've still got an opportunity beforehand to hopefully bring in one or two players who are out of contract at the end of the season.
"It goes without saying that we are delighted with some of our younger players who are coming through as well.
"There has been a natural progression made within the club in recent weeks and that statement from Charles would be an indication that hopefully we could continue that progress."
The Rangers boss was enthusiastic about being able to enter the transfer market but said he would be looking to get the best value for money possible.
"There is a great degree of responsibility with any manager or coach who gets money to spend in the transfer market," he added. "I totally understand and respect that.
"Not having had a lot of money to spend before, it's something I would look forward to but I would be very cautious with it.
"I wouldn't say I've looked at a figure to get us out of the SFL. I've not looked at it in great detail. At this moment in time, we are doing absolutely fine.
"We won't have any money to spend anyway for the foreseeable future so we are just hopeful we've got enough to get out of this division.
"I don't sit back and say I need a figure to get out of the SFL. I haven't done that at all."