Kapo: Why I chose the SPL over the Bundesliga
Celtic's new recruit lifts the lid on why he moved to Scotland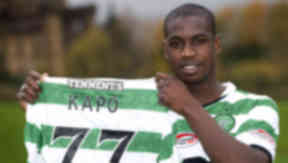 Just days after signing for Celtic, Olivier Kapo has revealed why he opted for a move to the SPL, when an offer to play in the Bundesliga was on the table. Kapo has made no secret of his immense pride at joining Celtic, and has cited a special 'connection' as one of the main reasons for joining.
The 30-year old winger officially signed for Celtic on Thursday, but had attracted firm interest from the German mid-table outfit Freiburg.
Kapo said: "I came to Glasgow for a couple of days on trial then went back to Paris. The other club I visited was Freiburg but I spent only one day there. It just didn't feel right – there was no connection."
"Celtic are a bigger club and there are probably 2,000 players all over the world who would come here if they got the call."
The winger then acknowledged that he may have a tougher time holding down a first team place at Celtic than he would have at Freiburg. He said: "There are players here who play in my position but I am going to fight for my place."
Despite usually featuring on the left side of midfield, Kapo has insisted that he is versatile and is happy to put a hard shift in for the benefit of the team.
The Frenchman said: "I don't just play as a winger. I've been a striker and also used to play behind the forwards."
"I'm not a luxury player. I'm someone who wants to succeed and who fights hard for the team."