Should Ryan Stevenson have been sent off for this lunge on James McPake?
Willie Collum saw fit not to punish the Hearts man for his hard tackle on the Hibernian defender.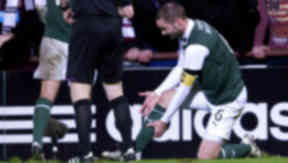 Ryan Stevenson incurred the wrath of the Hibernian support after going in hard on James McPake in Thursday night's Edinburgh derby.
The Hearts man and his Hibernian counterpart went in for a 50-50 ball on the left touchline but Stevenson appeared to go in with two feet, leaving McPake in some discomfort.
Referee Willie Collum saw fit to not issue a card to the Hearts player, but should he have sent Stevenson off for serious foul play?
FIFA's Laws of the Game state that when a referee is considering a course of action for a foul, he should determine whether a player has been careless, reckless, or has used excessive force.
"Careless" means that the player has shown a lack of attention or consideration when making a challenge or that he acted without precaution. No further disciplinary sanction is needed if a foul is judged to be careless.
"Reckless" means that the player has acted with complete disregard to the danger to, or consequences for, his opponent. A player who plays in a reckless manner must be cautioned.
"Using excessive force" means that the player has far exceeded the necessary use of force and is in danger of injuring his opponent. A player who uses excessive force must be sent off.
What do you think? Let us know by getting in touch on Twitter @STVSport or on our Facebook page.