Which players have given away the most fouls in the SPL this season?
Who are the players who have given away the most fouls in this season's SPL matches?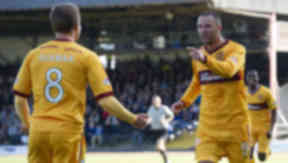 The players who give away the most fouls in the SPL aren't necessarily the "dirtiest" players in the league.
As with the fouls drawn, fouls given away often relates directly to the position that an individual player takes up.
Defensive midfielders have the job of breaking up play, target-men often need to be physically equipped for the odd tussle, while defenders are generally at a higher risk of giving away free-kicks.
Who are the top ten?
1. Michael Higdon (Motherwell)
Higdon's job is to be the physical presence at the tip of the Motherwell forward line, and as such he is more likely to give away more fouls than any of his team-mates. The English striker has given away 40 so far this season, but the fact he only has 2 yellow cards suggests they are for stereotypically "target-man" fouls; backing into defenders, overpowering opponents and generally putting himself about.
2= Jim Goodwin (St Mirren)
St Mirren's midfield lynchpin is obviously going to give away fouls, as his job is to break up play, distribute the ball and start attacks for his side. 37 fouls this season, coupled with an SPL high of 9 bookings and one red card, shows his role as much as his temperament.
2= Liam Kelly (Kilmarnock)
Kelly is on the list for most fouls and most fouled. This is largely down to the fact that he is the only real holding player in the Kilmarnock midfield. Harkins, Dayton and Perez are all far more likely to push forward, with Kelly sitting a little deeper. This often leaves his protecting the defence or having to break up attacks.
4=Callum Paterson (Hearts)
While he has been shifted into a variety of different positions for Hearts this season, the majority of Paterson's 33 fouls have come when he has played up front, often being asked to play as a lone striker; a role synonymous with giving away occasional fouls.
4=Iain Davidson (Dundee)
At Dundee Davidson is under more pressure than any other team in the SPL, and so it is no surprise that he's given away more fouls than many. Playing as a holding midfielder, he's tasked with protecting that vulnerable defence.
4=Manuel Pascali (Kilmarnock)
Again, with Pascali as a defensive player he is more likely to give away fouls than most. Operating either in the centre of defence or as a covering midfield player, fouls are part of the job profile.
7= Jon Daly (Dundee United)
Daly has the unfortunate honour of being both target-man for Dundee United, and an emergency centre-half. In both situations he's likely to give away fouls, particularly given his fondness for contesting the ball in the air. Daly has given away 30 fouls this season, but has yet to be booked.
7=Ryan McGowan (Hearts)
The likely-soon-to-be-departed McGowan has occupied roles either in defensive midfield or in full-back positions.
7=Gary Warren (Inverness CT)
Despite their attacking prowess, Inverness have been suspect defensively this season, with little cover from their midfield, who are focused on pushing forward at every opportunity. Perhaps this explains Warren's high foul count from centre-back.
7=Murray Davidson (St Johnstone)
Davidson has been praised for his industry and ability to get forward from midfield. This willingness has also translated into a slightly higher than average foul count.
Fouls conceded by club
Hibernian – 272
St Johnstone – 262
Hearts – 251
Inverness CT – 236
Kilmarnock – 232
Ross County – 225
Motherwell – 220
Aberdeen – 218
St Mirren – 218
Dundee – 213
Dundee United – 201
Celtic – 178