Watch John Sutton's goal hand Hearts a win over Dundee
John Sutton came off the bench to settle a tight match at Tynecastle.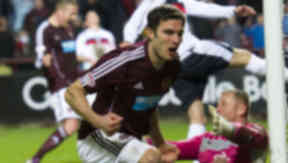 Hearts manager John McGlynn made the difference with his substitutes as the home side beat visitors Dundee 1-0 on Wednesday evening.
John Sutton and Arvydas Novikovas were introduced from the bench in the second half with the teams deadlocked and within minutes the latter set up the former for the only goal of the game.
"The players were a bit tired and bringing on those fresh legs got us the goal," said McGlynn. "We're delighted that we got the victory.
"I think we deserved three or four more goals. I felt we were in control of the game, but obviously we hadn't taken the chances until that point.
"In fairness to us I thought (Dundee goalkeeper) Rab Douglas had an excellent game, he always seems to have a good game against us.
"We had many young players out there on the pitch, just as we did on Saturday.
"I said when I came in that there would be no better time to be a young player at Hearts. There are more and more appearing in the team and that makes our bench more experienced because of that.
"You saw tonight we were able to turn to Sutton and Novikovas, but we also had Andy Driver, Medhi Taouil and Darren Barr. These lads will respond and it should make the whole squad stronger."
Results elsewhere mean Dundee are further adrift at the foot of the SPL table and manager Barry Smith was disappointed with the result and how his side had allowed a point to slip from their grasp.
"We feel we can do better all over the park," he said.
"The past two games we've created a lot of chances, we didn't tonight and credit to Hearts for that. We set ourselves out in an attacking system, but possibly it didn't work."