Scotland could field two strikers as part of Gordon Strachan's strategy
The new manager says an offensive gameplan is on his agenda ahead of the friendly with Estonia.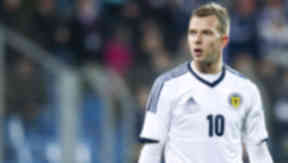 Gordon Strachan says he will give consideration to fielding two strikers as he looks to shape his Scotland team for the remainder of the World Cup qualifying campaign.
Previous boss Craig Levein was criticised for infamously playing with no recognised forwards in an away loss to Czech Republic, before settling on a 4-5-1 formation.
Strachan is aware of the necessity to pack the midfield at international level, but says he is working on ways to balance security in the middle of the park with greater attacking options, potentially partnering Steven Fletcher and Jordan Rhodes up top.
"Whatever happens when you play two strikers, you have to make sure you have enough in midfield that you don't leave gaps," he said.
"You have to make that compact. Liverpool are playing with two, one up front, Suarez just off him, a wide man and a narrow midfielder on the other side. So that's different.
"You can play two up front with a diamond in midfield. There are lots of different ways of playing 4-4-2.
"Liverpool's shape now is determined by their great players, Manchester United's the same.
"You can play two but you have to make sure your midfield is able and ready to carry the two and if they play with two strikers, they need to know how to help us defensively as well.
"So it's one or two things we have worked on this morning."
Scott Brown, who will captain Scotland in their first game under Strachan in a friendly with Estonia on Wednesday, says the new gameplan will be to press higher up the pitch..
"We are going to try to press them high up the park and put teams under pressure," the Celtic midfielder said. "It's a wee bit different to what we used to do but it's looking exciting so far.
"I wouldn't say a lot has changed but he [Strachan] is trying to get his own way to play in each formation and showing us bits and bobs on DVD as well. It's looking good.
"The manager is happy to let us go out and play and show that we can take on players and create chances. We have been unlucky in the past, especially at Hampden, we have created a lot of chances and just didn't finish them. Now it's a fresh start and we are looking forward to it.
"We have sat back and let defenders come towards us, but hope we can press them high up the park and make them make mistakes.
"There have been all different ways we have played and different formations. Some have worked and some haven't. We will see if this one works and hopefully it does."