Opening match provides insight into Gordon Strachan's Scotland plan
Michael Gunn of Tic Tac Tic takes a look at how the national team was set up against Estonia at Pittodrie.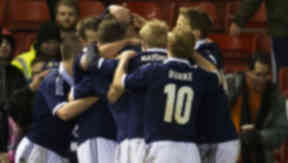 Gordon Strachan led Scotland to victory in his first match in charge, with a scrappy 1-0 win over Estonia at Pittodre.
It was a tetchy first step towards becoming the first manager since Craig Brown to lead the national side to a major finals, with few clear-cut chances in difficult wintery conditions.
But the big question is what changes, if any, have been made to Craig Levein's unpopular and underperforming system.
There were clues after being unveiled as manager a fortnight ago, citing the German national side as his main influence, albeit ackowledging that Scotland do not have the players capable of playing in a Joachim Low style.
He said: "I think German football is terrific. They play three up front, but it's three strikers. When we try it, it's a winger who never scores or a midfielder on the other side who doesn't have a clue about coming inside or whatever.…I've studied them. But we haven't developed players to do that."
With respect to Strachan, and considering notational values for formations can be ambiguous if not moot, it's likely he was referring to Germany's 4-2-3-1, who played last night with Lukas Podolski and Thomas Muller – notable strikers – out wide.
Scotland's starting lineup therefore was no surprise: a 4-2-3-1 straight out of the continental textbook, and this was as strong a starting eleven as Strachan will likely get the chance to employ.
The attacking midfield band of three consisting of Steven Naismith, Shaun Maloney and Chris Burke is probably the most revolutionary change that Strachan has engaged and a clear nod to Germany. All dynamic, pseudo-strikers with the technique, experience and movement to hug the touchline or attack inside.
Burke was used as a traditional right-winger, with Naismith and Maloney drifting around and swapping at will – perhaps an equivalent to Strachan's description of Mesut Ozil who "moves into channels" as opposed to sitting in midfield.
Post-match, Strachan continued: "We wanted to have players playing between lines, being brave enough to put it in there. Then when we got in between the lines sometimes, we had to go and eliminate people."
In the end, the winning goal wasn't sourced through these players, nor through Steven Fletcher – the outstanding targetman who has gone down as Levein's biggest mistake.
Instead, it was a relatively cheap goal from a set-piece straight from the Celtic training ground.
Given the atrocious conditions, the occasion was hardly a showcase for sweeping tactical revolution. It was instead a hint of insight into Strachan's thinking. In the second half, he reverted to 'classic' Strach.
The Celtic and Middlesborough 4-4-2 with out and out strikers and tricky wide men.
The substitutes were like-for-like, retaining an air of consistency, with Scotland finishing on a relative high, pushing for a second.
The Estonians defended deep throughout, and while difficult on the counter managing to get numbers forward, it was a tidy win for Scotland.
So far, so good for Strachan.
Michael Gunn runs the thoroughly excellent TicTacTic, providing tactical insight in all Celtic's matches. You can follow him on Twitter.