Combating Juventus' midfield trio crucial to Celtic's European hopes
David Schiavone takes a look at Juventus' strengths and weaknesses ahead of the Champions League tie.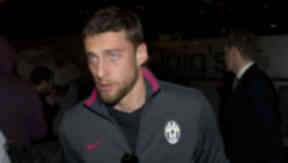 Celtic welcome Juventus to Glasgow on Tuesday evening for their Champions League round of 16 first leg match.
The Hoops have made life tough for their opponents at Celtic Park this season, and famously defeated Lionel Messi and his Barcelona side at home in the group stage of the competition.
Juve might not be Barcelona but do feel they have the ability to go far in the competition, first however, they have a difficult tie against Neil Lennon's charges. But how will the Italian giants set-up for the match?
Most likely Juventus will go for three men at the back with Luca Marrone or Martin Caceres flanked either side by Andrea Barzagli and Leonardo Bonucci, as Giorgio Chiellini is out.
Youngster Marrone is primarily a central midfielder, but has played in defence already this season, with limited success. If he plays then Gary Hooper could offer a stern test to the 22-year-old, just with his sheer physical presence.
Meanwhile, the midfield is where Juventus are at their best. Andrea Pirlo, majestic in almost everything he does, is complimented extremely well by Arturo Vidal and Claudio Marchisio.
These three, affectionately known as the MVP midfield, are the heartbeat of the team. Pirlo sits in front of the defence acting as the regista - deep lying playmaker - and is by far the most creative outlet in the Juve side. But underestimate his colleagues at your peril.
In Vidal, you have one of the best box-to-box midfielders in the world, while Marchisio is not far behind in terms of impact and ability.
On the flanks, the energy of Stephan Lichtsteiner on the right and either Kwadwo Asamoah or Paolo De Ceglie on the left, provide ample width for the Italians, giving them an extra dimension if needed.
As a front pairing, Antonio Conte will likely go with his normal two of Mirko Vucinic and Sebastian Giovinco, though Alessandro Matri did put in a claim for a starting spot following his goal against Fiorentina at the weekend.
Lack of conversion
The main criticism of this Juventus side is the poor conversion rate of chances to goals. On many occasions this season - and last - they have completely dominated sides and not been able to finish them off, or not been able to make the scoreline accurately reflect their superiority in the game.
Fabio Quagliarella is their top scorer in this season's Champions League with three goals, and he is tied with midfielder Vidal.
In Serie A, Giovinco and Vucinic have six goals each, from 22 and 20 matches respectively. Hardly the form of expert marksman.
Thus, if Celtic can limit the chances Juve create then odds would favour the Scottish side. They will also back themselves in aerial battles as only Matri provides any real physical presence in the air, with the other three likely preferring neat intricate play in an around the penalty area.
You do have to worry when Celtic boss Lennon describes Juve as 'clinical' because this is one thing they certainly are not.
Vulnerability on the counter-attack
As mentioned earlier, the Juve backline could contain the inexperienced youngster Marrone, which is nothing but a positive for Celtic.
If he plays expect Hooper to impose his physically, while the others Barzagli, Bonucci and Caceres all lack one thing… pace.
Not being the most mobile defence, this is where Celtic could find weaknesses especially if they exploit the counter-attack. In the last ten matches Juventus have only kept two clean sheets.
With the Bianconeri tending to press high up the pitch, when the ball is turned over, more often than not these the three defenders are left exposed, and Pirlo situated just in front of the defenders is not the quickest when tracking back.
The wing-backs also tend to operate almost as out and out wingers, getting to the by-line as often as possible, and as a result there are often gaps behind which can be exploited.
Asamoah
Maybe not Kwadwo Asamoah himself, but the left side is particularly weak, when the Ghanaian doesn't play.
With Asamoah having been at the Africa Cup of Nations, and only just rejoined the squad following the tournament, it is debatable as to whether he will play or not, or whether he will be is any physical condition to make the starting eleven.
Arguably, he has been the player of the season for the Bianconeri. Scoring five goals and setting up another five for team mates before heading to South Africa,
His all action style as a left-wing-back has earned him many more admirers in the past few months, as well as his taste for the spectacular. See goals against Napoli and Pescara this season.
His deputy Paolo De Ceglie has, on the other hand, been less impressive. Arguably at fault for Genoa's equaliser a couple of weeks back, he has also been replaced in three of their last four Serie A outings.
Going forward he is very capable, but when asked to defend he has issues, and issues Kris Commons could exploit.
Thus, if he can play Asamoah will shore up that left side, whilst offering a potent attacking threat that Celtic should worry about.
The midfield - MVP
What hasn't been said in the last year about Pirlo? He led Italy to the Euro 2012 final off the back of an undefeated season in Serie A with Juventus, where he was the main creative spark.
It has been argued many times before, shut Pirlo down and you shut Juve down, but this isn't the case entirely.
Yes, he is a huge component in their attacking set-up, but if a midfield concentrates on keeping Pirlo quiet, then the other two protagonists come into play.
Both Vidal and Marchisio are equally adept at playing that killer ball, though nowhere near the same level as Pirlo. Their game relies more on breaking from midfield to support the goal shy attackers, with both regularly getting in amongst the goals.
Vidal has also added a more expressive side to his game, and when Pirlo is out of action he is more than capable of taking on the role of midfield creator. His eight assists are testament to this; three more than Pirlo.
This midfield is one of the most complete in Europe and possibly on a par with that of Barcelona. The energy and thrust M and V provide compliment the languid artistry of P.
Celtic will need to be at their very best of they are to pull of another Barcelona style shock. Good organisation at the back will be paramount if they are to stop Juventus from scoring, but also making the most of any counter-attacking opportunities which come their way.
Gary Hooper and Georgios Samaras will have to be on great form as they will likely be isolated for most of the match, with the Greek international (if fit) likely given the unenviable task of marking Andrea Pirlo.
You should visit Forza Italian Football and follow David on Twitter.