Football Talk: Free money for all, Driver to USA, Keith Downie's fan club
Rounding up the day's top football headlines, analysis, tweets and video in an overly sarcastic tone.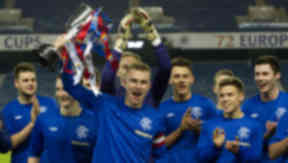 Money does crazy things to people, sometimes.
Yesterday saw the big reveal of the financial distribution plans for Scottish football in reconstruction, with current First Division clubs set to pocket an awful lot more cash.
The big question is this: If this model can be created to suit all 42 clubs as is, where's the need for the confusing 12-12(8-8-8)-18+plus play-offs model?
Good to see Partick Thistle winning on Tuesday night to keep the fight for the £68,000 alive, nonetheless.
Here's everything you need to know about your club's future bank balance.
We've got our hands on the financial breakdown on offer to clubs under the new plans.
Financial distribution model for Scottish league reconstruction revealed
The club finishing top of the second tier could make £1m more under the proposals.
What the new Scottish league financial model means for your club's finances
A breakdown position-by-position of how much your team would make, or lose, under the plans.
Four teams could be promoted to Scotland's second tier under play-off plans
A end-of-season knockout competition could bring consistent, drastic change to the 12-team Championship.
SFL plan additional First Division play-off place for this season
If the new 12-12-18 structure is pushed through, an extra SFL2 team will be handed a chance of promotion.
Hamilton chairman: 'New financial model helps clubs compete and survive'
'This is probably the best opportunity in the past 10 years to get change,' says Les Gray.
Here are the other headlines today in Scottish football.
St Johnstone 1-1 Celtic: Nigel Hasselbaink strike earns Saints a point
The Saints fought back to earn a draw after Efe Ambrose gave Celtic the lead.
And in answer to the many tweets we have received since last night we will not be contacting anyone for clarification on offside rule.....

— Official PerthSaints (@St_Johnstone_FC) February 20, 2013
Nor will we be compiling a DVD of evidence and sending it anyplace! Thanks for the suggestions though!

— Official PerthSaints (@St_Johnstone_FC) February 20, 2013
Motherwell 0-1 Dundee United: Johnny Russell ruins James McFadden's return
The forward scored the only goal of the game as United took three points.
Aberdeen could lose Isaac Osbourne for the season after hamstring tear
The Dons are hopeful of the player making a return from injury at some point after the SPL split.
Andy Driver's American dream
The winger has moved on loan to Houston Dynamo until the end of his contract in Gorgie. (Hearts official website)
FIFA to introduce goal-line technology for use at World Cup 2014
The governing body will introduce technology to guide decisions in time for this summer's Confederations Cup.
The STV Sport team are always sending the ladies into a flurry.
Keith Downie is outside my work. Can not contain my excitement.

— jac (@mynameisjaac) February 19, 2013
Whatever gets you going, we guess.
The Seattle Sounders obliging. Where are the Scottish football ones?
Some video treats to share around.
Now this is how you celebrate a goal. FINISH HIM.
We love you, Joey.