Hearts agree to accept cut-price fee from Rangers for Lee Wallace
The Ibrox side are to pay £400,000, which is £100,000 less than was agreed to be paid in the summer.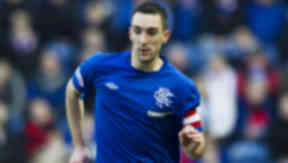 Rangers have paid a final instalment of £400,000 to Hearts for the transfer of Lee Wallace.
The payment, £100,000 less than was due to the Gorgie club in the summer, has been agreed after negotiations between the two sides.
STV understands the deal was struck between Green and a Hearts representative at a meeting of the European Clubs Association in Qatar earlier in February.
It is also understood Rangers have made the final payment in full and it has been received by Hearts.
Charles Green's new company was told by the Scottish FA to pay all outstanding football debt owed by the old company, now in liquidation, as a condition of the club's membership to play football being transferred between the two entities.
The payment to Hearts was not subject to this condition as it was not overdue, with the final amount scheduled to be settled in June.
In a short statement, Green told STV: "We don't owe any more money or any more apologies to anyone."
Rangers paid a settlement to Rapid Vienna on Tuesday of 820,000 euros for the purchase of Nikica Jelavic in the summer of 2010.
An amount of 1.18m euros was originally due, which the Austrian club say they will pursue in full from the oldco, which is in liquidation.