Rangers say all football debt has been cleared over player transfers
GAIS, Orebro, Palermo and Rapid Vienna all paid, with Charles Green claiming St Etienne have also settled.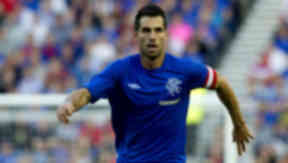 Rangers say they have paid all outstanding football debt to clubs for player transfers.
The Ibrox club owed a number of European clubs money as part of an agreement with the Scottish FA to have their membership transferred between the old company, now in liquidation, and Charles Green's newco.
GAIS, Orebro, Palermo and Rapid Vienna have all confirmed to STV they have been paid settlements by Rangers.
Green has told STV a similar debt with St Etienne for the purchase of Carlos Bocanegra has also been settled, but did not confirm the amount paid. The French side have been unavailable for comment.
Rapid Vienna confirmed on Wednesday: "We received the money from the new Rangers company yesterday (Tuesday) to our bank and the matter with them is closed.
"We have assured them we will not raise any dispute with FIFA which could have potentially blocked their participation in future European competitions.
"We are still trying to recover the full amount from the old Rangers company, but we understand this may take many months."
GAIS, who were owed training compensation for Mervan Celik said: "We can confirm we have been paid for Mervan. We do not wish to disclose the amount."
Orebro, from who Alejandro Bedoya was purchased, stated: "We have been paid as part of an agreement with Rangers."
Palermo also confirmed: "There was an agreement with Rangers for the transaction, which has been duly paid.
Green told STV on Thursday: "We don't owe any more money or any more apologies to anyone."
The chief executive had claimed in January that all debt to European clubs had been settled. However, negotiations with Rapid had not been settled and the agreed amount, 820,000 euros, was only paid this Tuesday.
There was no deadline set by the Scottish FA for all football debt to European clubs to be paid by.
Rangers have also made an upfront payment to Hearts for an outstanding amount due for the transfer of Lee Wallace, which was due in June 2013. £500,000 was previously agreed under the conditions of the transfer, but Hearts have agreed to take £400,000 immediately, which has been paid.