Should Niall McGinn have been awarded a spot kick in Killie draw?
Euan Norris booked the Aberdeen winger after he was brought down by Cammy Bell.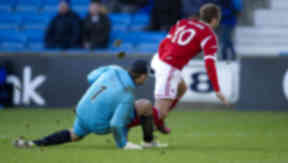 Aberdeen were left aggrieved during Saturday's 1-1 draw with Kilmarnock after referee Euan Norris booked Niall McGinn for diving in the penalty area.
With 10 minutes remaining in the match Cammy Bell brought down Niall McGinn with a sliding challenge, with the award of a penalty looking the likely outcome. However referee Norris booked the striker for diving instead.
Speaking after the match Dons manager Craig Brown said: "I've seen it again and it's without a doubt a penalty and a red card.
"I've been told by (SFA Compliance Officer) Vincent Lunny and (SFA Head of Referee Development) John Fleming that if you feel the referee has made a mistake then you are able to say that.
"I had asked the fourth official to speak to the referee and ask him why he didn't give a penalty and a red card to the goalkeeper, but it doesn't make much difference now as it has passed.
"The league is so tight, the decision is disappointing, but the implications are huge.