Johan Mjallby calls for 'strong referee' as Celtic travel to face Juventus
Official Alberto Mallenco failed to punish persistent holding in the box during the home leg.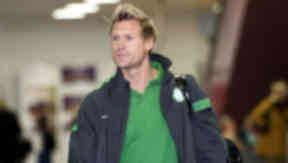 Johan Mjallby has called for a "strong" referee when Celtic face Juventus on Wednesday night.
The Glasgow side's 3-0 loss to the Italians was marred by strong-arm tactics in the penalty area by their opponents, with official Alberto Mallenco refusing to award a spot kick for persistent holding.
Firat Aydinus will take charge of the match in Turin, the Turkish official having only previously taken charge of one Champions League match in his career, a group game between Arsenal and Montpellier earlier this season.
"Yesterday we were watching the previous game they played against Napoli," Mjallby said as the team prepared to board their flight to Italy. "They did the same thing again.
"They were marking their opponents very, very roughly and hard when it came to corner kicks and wide free kicks.
"We just have to be ready for it. Hopefully the referee will be strong if it happens again.
"They should always be strong. That's their job. If the referee thinks it's a penalty, and it's a penalty by the rulebook, then they should be awarding a penalty."
Manager Neil Lennon was particularly scathing of Mallenco for his decision making at set plays, but Mjallby says their heavy home defeat was more down to the performance of Celtic than the referee.
"We can't be naive," he added. "We can't say we lost the game because of that. We lost the game because we made basic mistakes which are going to be costly when you play top quality players and a top quality side.
"We need to make sure we defend much better this time. What we can take heart from in the first leg is we created a lot of chances.
"We need to be brave and make sure we play good, attacking football. First and foremost, we have to defend better."
Celtic defied expectation to reach the last 16 of the Champions League, beating Benfica and Spartak Moscow to a place in the knockout stage alongside Barcelona.
"The team has done brilliantly so far," Mjallby said. "We've gone a long way in improving the team and the boys can take heart from that. It's good for their confidence in future as well.
"That's not the way we are going to approach the game anyway, to think we are going to lose. We think we have a good enough team to go there and win.
"Obviously, to turn around 3-0 might be too much to ask."