Hearts claim Vladimir Romanov's ownership 'remains unchanged'
Sergius Fedotovas stated he believed there is 'no threat' to Edinburgh club.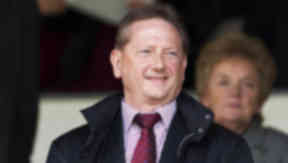 Hearts have claimed that Vladimir Romanov's ownership of the club remains unchanged amid events in Lithuania.
On Tuesday, director of the Edinburgh club, Sergius Fedotovas, released a statement saying that changes to the board of parent company, the Ukio Banko Investicine Grupe (UBIG), Hearts remain unaffected.
Mr Romanov and Mr Fedotovas last week resigned from their posts with private investment firm UBIG, which owns around 79% of Heart of Midlothian PLC.
This came after Ukio Bankas, which is a lender of UBIG's and is described as a "related party" in the bank's accounts, was declared insolvent and had all its assets transferred to Siauliu Bankas last month.
In the statement, Mr Fedotovas said: "Despite recent changes to the Board at UBIG, the Board structure at Heart of Midlothian remains unchanged. The information that Mr Vladimir Romanov has relinquished his control of Hearts is pure speculation and we do not have any information to that effect. Changes at UBIG board do not reflect any changes in the holding structure of Mr Romanov's ownership.
"I would like to reassure supporters of the club that the board of Hearts' focus is entirely on this club and continuing the work that has allowed us to be within touching distance of having a self-sustainable business.
"This then allows us to truly develop the club both on and off the field in the seasons ahead. It is a work in progress at the moment but we are satisfied with the progress being made."
He added: "It is also right to acknowledge that one of the principle reasons for us being unaffected at this stage by events in Lithuania is the excellent support that the fans and staff have provided to the club. With this continued support and ongoing diligence by the club's board of directors we believe that there is no threat to Hearts."
Romanov first arrived at Hearts in February 2005, purchasing a 19.6% stake from former chief executive Chris Robinson.
That shareholding was then increased through the years to the current 79% level. A subsidiary of UBIG, HOM 2005, also owns a further 4.5%.
Romanov retains a personal 16.9% shareholding in UBIG. He has claimed in a recent Lithuanian TV interview to have lost £250m through the collapse of Ukio Bankas.