Georgios Samaras: We have to take risks, it's vital we score the first goal
Celtic face Juventus on Wednesday night needing to overturn a 3-0 deficit to progress.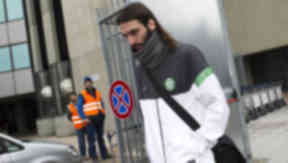 Georgios Samaras has underlined the importance of Celtic grabbing the first goal when they face Juventus on Wednesday night.
The Scottish champions are 3-0 down in their Champions League last 16 tie, having suffered the reversal in the home leg three weeks ago.
Celtic started with great intent against the Italians in Glasgow, recording 17 shots on goal but failing to convert.
"Everything can happen in football," Samaras said at a pre-match news conference. "It's vital that we score the first goal to give us hope in the tie.
"We will play the same way as we did in the first leg, try to move the ball, play attacking football and create chances and hopefully the chances that we create are put in the back of the net.
"If we score the first goal you never know what can happen. In football everything can happen."
Samaras' return to the side, having missed the first leg through a hamstring injury, has been hailed as pivotal to the slim hope Celtic have of turning the tie around.
"Football is not a one-man show," he warned. "We are a team, we lose as a team, we win as a team.
"Sometimes I score a goal and sometimes someone else scores. I don't really look for any records.
"It is always great to win a game and we want to make history and break records. We will be the first [Celtic] team to win in Italy.
"The most wins in Europe for Celtic in a season is eight and we are on seven at the moment."