Gavin Masterton leaves boardroom position at Dunfermline Athletic
Dunfermline have announced extensive changes to the club's board structure.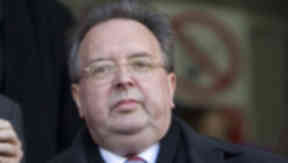 Gavin Masterton has announced he will stand down from the Dunfermline board as part of a re-shaping of the club's structure.
The move is part of widespread changes to the First Division club's board with Jim Leishman leading a working party made up of members of the local business community.
As revealed by STV, Masterton has resigned from his post, though he will remain involved with the club in his capacity as a shareholder before handing over to new parties.
In a statement he said: "DAFC has always been a great passion of mine. Over the past few months, many parties have continually asked for unity between the supporter groups and the board and this has obviously not happened. I hope therefore my decision to step down from the Board of Directors will have a unifying effect.
"Every group can have a potential role to play in the future of this great Club and the key then is for people to sit down calmly and discuss each and every option.
"I have stated repeatedly that Dunfermline is too a small town for squabbling about the clubs direction and that everyone must pull in the one direction otherwise Dunfermline risks losing a huge asset to the town and local economy.
"I have found the intense pressure that I and my family have been placed under over the last six months has become unbearable.
"As such I feel for the club to move forward it is only right that I and my family now take a step back. I still have a substantial investment in the club therefore it is in my interests to see the club go from strength to strength, I do hope the club will get back to where it belongs."
The club statement added: "It is planned that Karen Masterton and Tracey Martin will also step down from the Board of Directors, they will at present stay in their day to day roles at the club over this transitional period.
"John Yorkston will be appointed Honourary president in recognition of all his work over the years as chairman."
The change comes against a backdrop of financial uncertainty at East End Park, where the club is working under the threat of administration.
The club's players have been paid late on several occasions this season and last week raised a complaint with the Scottish Football League after only receiving 50% of their most recent wages.
Masterton, who has been on the board at East End Park since 1991, had been working to attract fresh investment, including attempting to raise £300,000 via a share issue.
However, the share issue was postponed due to problem with the wording of the documentation.
Pars manager Jim Jefferies told STV last week that he was hopeful that fresh investment could be found in order to alleviate financial worries.
"For football clubs struggling to get investment, administration is always the first thing bandied about. Gavin has given us assurances he is working extremely hard to make sure that doesn't happen and is determined to see it through.
"We'll just have to wait and see. Hopefully the investment side that is due will come and alleviate any threat of administration."