What the Italian papers say: A look at the press ahead of Juventus v Celtic
Juventus have one foot in the quarter finals but the mood from Turin is one of caution.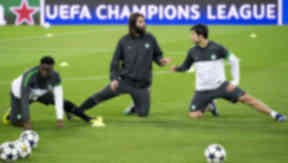 Juventus already have one foot in the quarter finals thanks to their 3-0 win at Celtic in the first leg of their last 16 tie.
The Italian press, however, is full of warnings from manager Antonio Conte ahead of the visit of Neil Lennon's men.
Further effort is required to ensure their spot in the last eight, although the Old Lady are expected to field a much-changed side as they continue to compete on both domestic and European fronts.
Here's what's being said in the Italian press on Wednesday:
Sport Paper: Antonio Conte must focus minds
A draw against Napoli maintained Juve's six-point lead at the top of Serie A, but there have been other distractions to consider going into the return leg with Celtic.
Niklas Bendtner's driving ban, and rumours of Antonio Conte becoming the next Chelsea manager, have followed the team.
The publication writes: "The 3-0 score gives tranquility, but not security."
Gazzetta dello Sport: Let's do it for Gaetano Scirea
Juventus legend Scirea, one of Italian football's greatest ever defenders, would have turned 60 on the day of this year's Champions League final.
Gazzetta write that his fighting spirit typifies the qualities required from a Juventus side which must not let its guard down, despite being 3-0 up.
"Celebrating 60 years of Gaetano Scirea under the arch at Wembley would be great, an all-powerful act."
Repubblica Sport: Football always has surprises
Conte is saying all the right things, according to La Repubblica, as Juventus look to see out the tie.
Describing Celtic as a "strong, proud team determined to avenge the defeat in Glasgow", the manager says his players must remain focused.
The dead-ball prowess of their opponents is again noted by Conte, but dismissed Neil Lennon's complaints about manhandling in the penalty area during the first leg.
"Lennon complained about the referees?" Conte posed. "Then he should come to Italy. The protagonists are the players, not the referees.
"At corners in the first leg, his players were systematically trying to block Gigi Buffon. Should I also send UEFA a dossier?"
Football Italia: Claudio Marchisio to play despite suspension fear
The midfielder, one of the goal scorers in Glasgow three weeks ago, is one yellow card away from a one-match Champions League ban.
Marchisio though will reportedly line up against Celtic, although Conte is expected to make changes elsewhere in his starting line-up.
Luca Marrone will come into the defence, with Paul Pogba and Mauricio Isla coming into midfield.
The match should also see the return of Kwadwo Asamoah, who was rested for the draw with Napoli.