Kelvin Wilson signs for Celtic
Nottingham Forest star Kelvin Wilson has signed a pre-contract with Celtic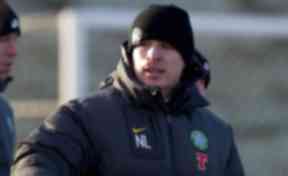 Kelvin Wilson has agreed a pre-contract agreement with Celtic, but could still make the switch to Glasgow this month if a fee can be agreed with Nottingham Forest. The highly rated defender is set to join up with Celtic in the summer, but Neil Lennon is keen to add the player to his squad now.
Lennon told the Scottish Sun: "There may be some movement in the next few weeks. If not, then we'll have him in the summer. If the possibility is there for him to come here in January, then I'd like to have him now."
"It's up to Forest. They have their own priorities and he is still technically a Forest player."
The Hoops boss has long been an admirer of Wilson, having tried to sign the player in the summer and recognising his potential during his short spell as a player at the Championship club.
Lennon said: "I played with him for six months when I was there. He was 22 and he was still developing physically."
"We did try and get him in August but there was nothing doing there."
Despite having the best defensive record in the SPL, Lennon's priority was to add to strengthen in central defence.
Lennon seemed pleased to finally get his man, as he said: "We have watched him the last couple of years and he's been very consistent in the Championship. He's very quick, composed on the ball and decent in the air as well."