Fan-owned Clyde FC vote for new name and new East Kilbride home
Nine in ten of fan owners vote to move from current Cumbernauld home.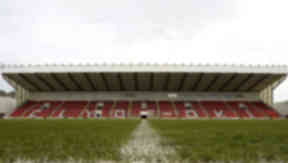 Fan-owned Clyde Football Club have voted in favour of moving to East Kilbride in two seasons and changing the club's name to EK Clyde.
The vote took place in an Extraordinary General Meeting before Saturday's home game against Montrose with 82% of the supporters who own the club turning up.
Only 7% were against the move to South Lanarkshire – meaning 93% for – while 84% were in favour of the name change.
One of the club's directors, Gordon Thomson, said: "The turnout was the biggest success of the day because we are supporter owned and taking it seriously.
"It's very much the start of the process still, people put trust in the directors regardless of the majority vote.
"We have to respect people who were not supportive of the opportunity to move to East Kilbride. They might not agree with the way forward but we took all options into consideration."
The owners of Clyde FC have taken part in a historic vote today, giving the Board a mandate to pursue a move to East Kilbride. #bullywee

— Clyde FC (@ClydeFC) April 20, 2013
93% voted to back a move to East Kilbride and 84% voted in favour of the club being called EK Clyde.

— Clyde FC (@ClydeFC) April 20, 2013
It's worth noting that we had an 82% turnout at our EGM on East Kilbride today... a great advert for supporter ownership. @suppdirect

— Clyde FC (@ClydeFC) April 20, 2013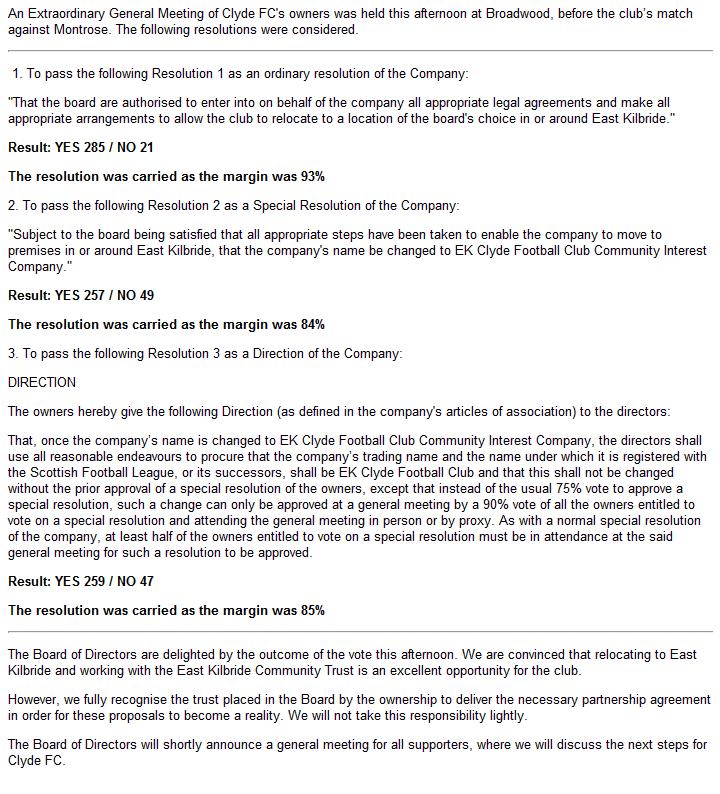 The Bully Wee started out life in 1877 by Glasgow's River Clyde – hence the name. However the club moved to Shawfield Stadium in Rutherglen in 1898 and remained there for almost 90 years.
They left Shawfield in 1986, to ground-share with Partick Thistle. An agreement was reached in 1990 to move to Broadwood, however it wasn't ready and Clyde then moved in to [Old] Douglas Park with Hamilton Accies in 1991.
It wasn't until the 1994/95 season when they eventually moved to Cumbernauld. Now the club will now work with East Kilbride Community Trust about a move to the area.
However, East Kilbride Thistle fan Calvin Berry reckons the move will have an effect on the local junior side.
He said: "The crowds are already decreasing and locals are more likely to choose going to see their local pro team over a junior side."
Jamie Hepburn, Cumbernauld and Kilsyth MSP, added: "Without a doubt the loss of the only senior football team will be a blow to the area and to local supporters.
"I understand that the board feel they have tried all avenues to develop a successful business model and that their only recourse is to relocate to East Kilbride once a new stadium is developed in conjunction with new business partners.
"For the club to change its name when the move takes place shows how seriously the board consider the move necessary."
There was also a mixed reaction on social networking site Twitter:
Delighted to hear @clydefc voted in favour of moving to East Kilbride. Can't wait to have a senior football team in town.

— Darren Miller (@dazzmiller) April 20, 2013
EK Clyde, how stupid does that sound

— Mhairi(@sportlover35) April 20, 2013
Amongst the debris of the past week in Scottish Football, @clydefc today votes on a proposal to move to East Kilbride. A huge decision.

— Tony McKelvie (@TonyMcKelvie) April 20, 2013
#EKClyde should have happened years ago

— Mark Mckenzie (@Markmck17) April 20, 2013
@gazpetersen bad move. Sad day for Cumbernauld too

— Andy Turnbull (@AndyTurnbull9) April 21, 2013
Clyde are moving to East Kilbride quite sad but it's probably the right thing to do #BullyWee

— Kyle Arbuckle (@KyleArbuckle) April 20, 2013
@rossdunbar93 to be fair, quite a few of Clyde's fans have stuck with them through two decades in C'nauld. Key is EK community engagement.

— David Stoker (@davidstoker_lfc) April 20, 2013
RIP CLYDE FC. What a sad birthday for me. That's all I'm saying. After lottery won then no longer an agent and done with club:(

— scottish footie fans (@scotsfitbafans) April 20, 2013
Clyde to relocate to East Kilbride and be called EK Clyde. Shrewd move...they'll be warmly welcomed.

— Mr Armourdillo (@RabArmour) April 20, 2013
Clyde moving to east kilbride. Wonder what Nlc will do with broadwood. Tidy wee stadium that.

— Darren (@Dmcgill31225) April 20, 2013
In March 2013 when the idea was originally floated, a spokesman for North Lanarkshire Leisure (NLL), said: "Should Clyde FC decide to terminate their licence to occupy Broadwood Stadium then NLL would explore a range of potential options to ensure the continued viability and sustainability for the stadium as a whole.
"While our preference would be for Clyde FC to continue to use the stadium, there is considerable demand for the time and space currently allocated to them.
"The facilities at Broadwood have been significantly enhanced with the investment of the new £9m sports and leisure centre which opened at the stadium on January 5 2010 and in August last year a new 3G pitch costing £450,000 was laid."
What are your thoughts on the move? Let us know.