East Stirlingshire face Scottish Cup expulsion
The Third Division club fielded Michael Andrews in their win over Buckie Thistle on January 19, even though the goalkeeper was not registered.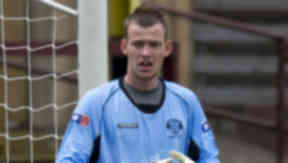 East Stirlingshire face expulsion from the Scottish Cup for fielding an ineligible player in their fourth round win over Buckie Thistle on January 19. Goalkeeper Michael Andrews, on loan from Falkirk, was not registered for the game, which the Third Division club won 1-0.
Andrews has been on loan at Ochilview from Falkirk since the beginning of the season, with the two clubs indicating in July the player would move on a season-long deal.
Under the rules of the Scottish Football League, a temporary transfer may only last until the day prior to the commencement of the next transfer window. Therefore, East Stirlingshire were required to re-register Andrews with the Scottish Football Assocation, in order to retain his services for the remainder of the season.
East Stirlingshire confirmed to STV on Monday they indicated their desire to do so on December 17 and posted the appropriate paperwork to Hampden Park on the same day. However, as of yet, the registrations department of the SFA have yet to receive the papers required.
As Andrews' registration automatically reverts to Falkirk in the event of an application for another temporary transfer not being lodged, he has been ineligible to play for East Stirlingshire since January 3.
East Stirlingshire dispute that Andrews was ineligible to play for them, having believed they had successfully registered the player when they sent the registration papers to the SFA.
Under a resolution passed by the SFA in May, East Stirlingshire should automatically be expelled from this season's Scottish Cup. The governing body's emergency committee will meet on Thursday to determine whether or not Andrews was ineligible and, if it is proven, the club will lose their place in the fifth round of the competition.
Rule 39.1 (b) of the SFA's handbook, relating to cup competition rules, states the club do not have any right of appeal. "Where a club is found to have named within an official team line a player who is not eligible to participate in the relevant match in the competition pursuant to the registration procedures and/or the disciplinary procedures, then such club will be ejected from the competition," it reads. "Neither the board nor the secretary shall be entitled to waive or modify the application of this rule in any circumstances."
Since January 3, Andrews has also played for East Stirlingshire in a Third Division match against Clyde, meaning they could also be punished by the SFL for again fielding an ineligible player. SFL rules state any club fielding an ineligible player in a league match may have points deducted, although any punishment is at the discretion of the SFL's board.
East Stirlingshire are currently scheduled to host Brechin City in the fifth round of the Scottish Cup on February 5.