Jurgen Klinsmann warns Carlos Bocanegra over Rangers return
The USA coach says Bocanegra may put his national team place at risk.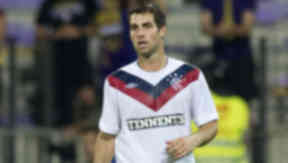 USA manager Jurgen Klinsmann has said that Carlos Bocanegra could lose his place in the American team if he is playing for Rangers next season.
Bocanegra, who has 110 international caps, is contracted to Rangers until the summer of 2014 but has spent this season on loan at Racing Santander.
Rangers will be preparing to play in the Second Division when Bocanegra returns to Ibrox, but Klinsmann feels that level may not be testing enough on a weekly basis.
"Next year, they are in the second division which is the third highest division in Scotland. Rangers is Rangers, one of the biggest clubs in history," Klinsmann said.
"But that division in Scotland, I'm not sure if that's where you want to be.
"Players make their own decisions and they have to deal with the consequences of that."
Klinsmann didn't rule out a continued place for Bocanegra but highlighted other players who were ready to stake a claim for inclusion. He said that Bocanegra knew there was pressure on his starting spot in the team.
He added: "Carlos is aware of that and knows at the end of the day that its a continual competition."