Russell Anderson asks for patience as Derek McInnes reshapes squad
The Aberdeen captain says the players can see the difference in McInnes' methods, but it might be next season before supporters do.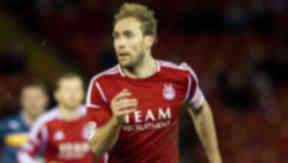 Aberdeen captain Russell Anderson has said that it might be next season before supporters get to see the influence of Derek McInnes' strategy at Pittodrie.
The newly appointed manager takes charge of his first home game as Aberdeen boss, aiming to balance the need to finish as high as possible with the need to see all of his current squad in action.
McInnes' first game in charge was an all-too-familiar goal-less draw with Hibernian on Monday, which has become something of a feature in the past 18 months at Aberdeen. However, Anderson feels it'll be next season before McInnes is able to fully show his vision for the club.
He said: "From inside the club there have been noticeable changes. They have got their own ideas for training from what we have seen.
"For the supporters to see any difference, I think it might take a little bit longer for the manager to get his ideas across and for them to stick with the players.
"We will be using between now and the end of the season (to do that) and we'll start to see a difference perhaps in the way the team plays."
While there are a number of players aiming to earn new deals, including Josh Magennis, Gavin Rae, Robert Milsom and Issac Osbourne, Anderson insists that it is not just those who are out of contract who should feel their position is under threat.
He continued: "If we don't keep our eye on it, I'm sure next season might not be here for some players.
"Everyone is really in the same boat, whether they're in contract or not. They are still trying to prove to the manager they deserve to be in the team next season.
"Even if you have a contract, if you don't impress the manager there will be plenty of players that will come in and take your place in the team.
"It happens every season, whether or not it was the current manager or the old manager."
One of the players that McInnes will be aiming to build his side around next season is Niall McGinn, who has scored 18 SPL goals for Aberdeen, and was nominated for Players' Player of the Year.
His club captain accepts that the team would have struggled far more than they have were it not for the for contribution of the former Celtic forward.
He said: "If you take Niall's goals out of our team this season, we would have really struggled.
"You can see how many goals he has scored. He has been really important for us this season, everyone can see that. That's obviously the reason he's been nominated for the award.
"He has got as good a chance as anybody. Obviously I've got the benefit of seeing him week in, week out, as opposed to the other players where you only see the highlights.
"I'm biased, but I think he deserves to win it."