Power Rankings: Analysis, stats and how your SPL team performed this week
As well as the team of the week, we look at the performances of some of the out-of-contract SPL players.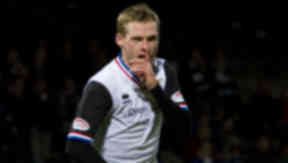 Two games to go until the end of the season. Two matches in an epic slog of a campaign, before we can start moaning about the lack of football.
Still, there's awards to be given, analysis to be provided and statistics to be probulated by the ice cold hands of yours truly.
First of all, the Team of the Week. As per usual, it's a rough formation. As per usual, we've shoehorned individuals into the team as best we can, to show who scored most.
As per usual, don't blame us if a star performer was left out, we just did it by the numbers. And remember, all the numbers are based on attacking threat. Phew.
Team of the Week
DF Jamie Hamill - Hearts - 1.13
DF Daniel Devine - Inverness CT - 0.80
DF Josh Meekings - Inverness CT - 1.00
DF Kevin McHattie - Hearts - 1.70
MD Iain Vigurs - Ross County - 1.18
MD Andrew Shinnie - Inverness CT - 2.63
MD Liam Craig - St Johnstone - 1.40
FW Billy McKay - Inverness CT - 4.43
FW Michael Higdon - Motherwell - 2.44
FW James McFadden - Motherwell - 2.54
My team
Usually at this point we try to highlight trends, facts and figures which have been popping up in the recent matches. Instead, this week we're going to concentrate purely on the players who are looking for new contracts. Who are really going all out for a new deal and who will be missed the most?
We obviously can't use our figures to give a fair reflection on everybody. The Power Rankings only show how effective a player is in forward positions. Naturally, a defender or a holding midfielder may score very poorly here, but actually be a far more important part of a team than a regular goal-scorer.
As a result, we've tried to either limit this to the forward players, or at least insert caveats where necessary, so we're not comparing a tireless midfielder with a goal-poacher and then attaching a number.
Aberdeen
Rory Fallon didn't do his chances of impressing Derek McInnes much good when he was sent off against Dundee at the weekend. His first team opportunities have been limited, but with a season total of 1.13 there hasn't been too much of an impact in the 15 matches he did play in.
All points relate to the likelihood of a player being involved in a goal, and over the course of the season Fallon is 144th in the division.
Mitch Megginson has had even less chance to impress, having been involved in only three games this term. It's not really fair to use his numbers as a comparison, but for such cameo roles a 0.67 is a fair return.
The most impressive of Aberdeen's out-of-contract players, according to the stats, has been Josh Magennis.
The Northern Irishman has been used all over the pitch, but has a rating of 7.51 for the season, putting him 42nd in the overall table, and ahead of the likes of John Sutton, Eoin Doyle and James Forrest.
Only three players in the Aberdeen squad have scored higher than him - Niall McGinn, Jonny Hayes and the departed Ryan Fraser.
Celtic
Okay, so this week's analysis probably isn't quite so helpful when looking at Celtic's squad. Thomas Rogne and Paddy McCourt are out of contract at the end of the season.
Rogne shouldn't be judged on his attacking abilities, but McCourt hasn't managed remotely the same level of attacking threat as he was able to produce in recent seasons.
A season total of -1.62 suggests that he has been missing opportunities when they have been presented, giving away possession and giving away fouls.
What may be of more interest to Celtic supporters is the wealth of options they have for goals. Gary Hooper, Kris Commons, Georgios Samaras, Charlie Mulgrew, Scott Brown and Lassad are all in the top 40 for the season, suggesting goal threats from the left, right and centre, with further ammunition from full-back.
In recent weeks the problem for Celtic has been getting more than one of these individuals to hit form at the same time. There is clearly a fine balance in the personnel, but not everyone has been at the peak of their game at the same point.
Dundee
In stark contrast to Celtic, Dundee's entire first team are looking for a new deal at the end of the season. Who have been the most potent individuals?
It's no surprise to learn that the highest ranked Dundee player is in 46th position for the season. Jim McAlistair (7.36) is closely followed by John Baird (7.35) and Nicky Riley (5.36).
Ryan Conroy (76th - 4.47) has also scored well enough to suggest they are more than capable of playing at SPL level.
What is perhaps more interesting, given Dundee's failure to start the season until February, is what the totals would look like were they only measured over the last two months.
If we were only measuring totals since John Brown took over, John Baird would be seventh in the SPL (7.32), with both Jim McAlistair and Ryan Conroy inside the top 20.
Dundee United
Jon Daly, Willo Flood, Barry Douglas and Rory Boulding are amongst the players out of contract at Dundee United this summer. While it might be unfair to use Power Rankings to rate Douglas, there's a good reason he's on the list.
It may seem counter-intuitive to suggest that Dundee United seem to be able to cope without Daly, given his goalscoring record in recent seasons.
However, this term he has returned 9.68 in the Power Rankings, which while relatively impressive (28th in the SPL) is hardly irreplaceable form, given he has been a regular in the side, and has managed 33 starts this campaign. By comparison, Cillian Sheridan, who sits in 26th for the season, started just 18 games.
Willo Flood has been inconsistent throughout the season, and his season total of 0.615 suggests he's not been involved in chance creation as much as his team-mates. Rory Boulding, by comparison, has 0.88.
By far the most effective out-of-contract player at Tannadice is actually Barry Douglas. The stats can't account for his defensive qualities, but his attacking potential is hugely significant.
A score of 7.60 (41st in the SPL) for the season puts him ahead of many strikers, and the third highest point-scorer from full-back in the SPL. Only Charlie Mulgrew and Tom Hateley have scored more.
Hearts
Darren Barr, Marius Zaliukas, Andy Webster and Danny Grainger are out of contract at the end of the campaign, but again, they shouldn't be judged on attacking potential, even if Zaliukas (4.82) is the second top scoring centre-back in the overall Power Rankings.
Hearts' top scorer in the rankings is John Sutton (43rd - 7.48), followed by Calum Paterson, but Arvydas Novikovas has scored a very respectable 5.38 for the season, putting him in 62nd place in the overall rankings.
From the centre of midfield, that's a very good score, comparable with the likes of Joe Ledley (52nd - 6.41) or Stuart Armstrong (71st - 4.70).
Both Gordon Smith (1.05) and Fraser Mullen (2.05) have respectable totals for the season, given how sparingly they've been used, but it's for that same reason that it's difficult to judge such a haul.
Hibernian
Leigh Griffiths, end of loan, big problem. Repeat. That's all we've done in Hibs' Power Rankings for the last few weeks. We're not doing it this week, unless you count this.
Eoin Doyle (45th - 7.40) is Hibernian's third top scorer in the Power Rankings, and he's on his way to Chesterfield. David Wotherspoon (55th - 7.14) is the fourth highest scorer, and he is out of contract in the summer. Fortunately, Paul Cairney (33rd - 8.88) has been particularly productive from central midfield.
However, as we've seen from Motherwell's consistent placing amongst the upper echelons of the SPL, keeping a unit together is vital to any club's success. Losing three of the four most potent attacking threats in one summer could be a particularly difficult task to replace.
Inverness CT
First things first, Inverness CT really, really want to get Aaron Doran tied down for another year. Andrew Shinnie may have committed to joining Birmingham, but Doran has been the main provider for Caley Thistle this season, with 12 assists.
Put into perspective, only Henrik Ojamaa, Barry Ferguson, Aidan McGeady and Steven Davis have managed more in a single season in the last six years.
Gavin Morrison and Shane Sutherland haven't featured regularly enough for their scores to be particularly helpful, while Owain Tudor-Jones's main skill set is in protecting the defence rather than setting up attacks.
Kilmarnock
Kenny Shiels' plan to bring through youth players looks to have been particularly effective in recent weeks, particulary Chris Johnston, who has scored 1.94 in his last two matches. However, holding on to some of the more experienced members of the squad might not be a bad idea, to further aid in their development.
James Dayton has been the third most effective attacking player at Kilmarnock this season, scoring 6.67 (51st), however Liam Kelly - still second behind Cillian Sheridan - has already left the club. Danny Racchi (66th - 5.10) and William Gros (81st - 3.89) are fourth and sixth respectively in Kilmarnock's top scorers.
Further reliance on young players is likely for next season, with Shiels deciding against loan deals for future squad building. The ability to keep even a couple of his current squad could limit what is already likely to be a fairly major squad overhaul.
Motherwell
We said it last week, but we'll say it again. Just what could Motherwell achieve if they kept this group of players together?
Michael Higdon, the 26-goal Scottish Player of the Year, is out of contract. Darren Randolph, who we won't power rank but who was in the team of the year, is out of contract. Nicky Law, 32nd on the overall list, is out of contract. Tom Hateley, the second highest scoring full-back, is out of contract.
Chris Humphrey's (7.71 - 37th overall) deal expires at the end of the season, while James McFadden (9.55 - 29th overall) - who has made such a difference in the final push - comes to the end of his short deal. All of the outfield players named feature in our top 50 players in the SPL for attacking ability.
Confirming second place may make it possible to finalise renewed deals with some of the group who will be out of contract in a couple of months. Motherwell have had success in recent seasons by keeping a unit together, and where they have to replace they will, but no other club has quite as many of their top performers' deals running out at the same time.
Ross County
That said, Ross County could run Motherwell a very close second.
Richard Brittain may or may not still be in Dingwall next season, but the top performer in the Ross County side has been Iain Vigurs. Alongside Andrew Shinnie, Vigurs has been the top performing midfielder in the SPL this term.
No other player, regardless of position, has been a feature of the top 10 as often as he has, and only four players - all out-and-out forwards - have a higher average rating than him.
Keeping hold of Rocco Quinn should also be a priority. He may only have a total of 5.71 for the season (59th in the SPL), but the prospect of losing three of their top four scoring players, in a team that have made their name on being a well-drilled unit, should be avoided at all costs.
Indeed, Ivan Sproule (12.08 - 19th) is the only one of Ross County's top six performers this term to have a contract beyond this summer.
St Johnstone
While St Johnstone will certainly need reinforcements, their need may not be quite so great as some of their opponents, particularly when it comes to goal threat.
There will be significant blows, particularly if Murray Davidson (8.40 - 36th) moves on, and when Liam Craig (9.54 - 30th) joins Hibernian, but the vast majority of the highest point-scorers will still be at St Johnstone next term. Indeed, Richard Brittain may well join them.
Steven Maclean (13.01 - 16th), Gregory Tade (11.24 - 23rd) and Rowan Vine (9.95 - 27th) have each performed well this term, and scored goals when the others are not. Nigel Hasselbaink may or may not decide to stay in Perth, but he too has a formidable total (12.17 - 18th).
Only Dundee and Hearts have their top points scorer in a lower overall position than St Johnstone, but no club has as many players in the top 30 as Steve Lomas' side.
St Mirren
Danny Lennon has managed to tie the majority of his League Cup winning side down for another season, but there is one significant omission from the list of players who haven't signed new deals, judging by the rankings at least.
Paul McGowan (8.12 - 37th) has been a vital part of the St Mirren side in the last two seasons, and was Man of the Match in the League Cup final victory. Only Steven Thompson (15.63 - 12th) has scored more than him in the Power Rankings for this St Mirren side.