Sir Alex Ferguson's mind games with Jim McLean from his Aberdeen days
Friends off the pitch, Ferguson was only to happy to try and help McLean in finding a new player.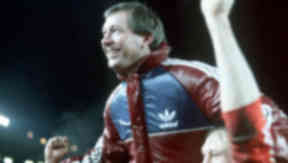 Sir Alex Ferguson's mind games formed part of his reputation as Manchester United manager but he was winding up his fellow bosses long before he made the switch south.
Aberdeen and Dundee United enjoyed a fierce rivalry during the 1980s, with Ferguson going head-to-head with former Largs coaching pal Jim McLean.
While they were fighting it out for honours from the dugout, the two enjoyed a friendship off the park.
One April, McLean was looking for a new player and Ferguson called him up to suggest one particular scout.
Giving the number a ring, McLean asked to speak to Mr Lyon, only to discover he was on the line to Calderpark Zoo.
In our video taken from the Football Years in 2009, McLean describes his reaction to the prank.