US investor: 'We wanted to turn Dundee from a £1m club into a £10m one'
John Nelms has plan for youth academy and first team to grow the Dens Park club.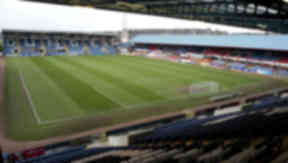 An American businessman who wants to help run Dundee believes it would take 'a big olive branch' to get the investment back on the table.
John Nelms, a Texas-based business partner of Tim Keyes, planned to develop a youth academy and work with John Brown to build a squad for promotion back to the SPL.
However, after the proposed £650,000 investment in the Dens Park club appeared to crash on Wednesday with the resignation of three board members, Nelms fears he will not get the chance to work with the club.
In an interview with STV, Nelms said: "Our concern is trying to get money into the club as soon as possible, for next season.
"With the response that we got [from the Dundee board] we just cannot live up to the terms. The terms are just not conducive to what we are trying to do for the club.
"So right now it is dead.
"The only deadline we set was based on the manager needing money for next season. For John [Brown] to be able to keep the spine of the squad is the only reason we set the deadlines.
"It kept getting pushed back and it never got to the point where we could put funds in. Of course there is still time for us to put them in and bolster the club for next year, but it just doesn't seem like it's going to happen.
"I don't know what it would take [back round the table]. A lot has been said in the press which isn't true. We are a group, led by a Scotsman, that wants to help the club and take it into the future and be around in the SPL for generations to come.
"I don't know how it could be re-started now. The people who wanted us there have left the board. The people who do want us around are now in charge.
"There would have to be something happens between the current board members and those who have left, but I don't even know how to say it. Some sort of goodwill would have to pass.
"If the olive branch is big enough and the group comes back believing it's legitimate and allows our investment to be used for next season, then there's almost potential for us to come back."
Nelms said the group from the USA identified Dundee as their top target for investment because the money would not be spent on buying out previous owners.
He said the group – Keyes, Steve Martin, Bill Colvin and Ian Crichton – felt they could turn Dundee from a £1m business into a £10m business using a slow growth model based on developing young players, training facilities and the stadium.
In the interview with STV's Tyrone Smith, Nelms said: "Dundee had several things that ticked boxes. Long-term growth – the company has missing parts that we can put in and sort out quite quickly. The youth side especially.
"Also the organisation itself has little to no debt, so we know money going in is not to service debt but to go back directly into the club. And we knew any money we put in would not be going to any director or owner.
"It's a slow growth model. It's taking a club that should be worth much more - financially, in the public eye, socially, technically - to take it from a £1m corporation to a £10m one. We want the satisfaction of being able to do that.
"We plug in those missing parts, enact a sound business plan and it becomes a sound business.
"The initial cash injection with Bill Colvin, Steve Martin and ourselves is £650,000. A portion goes to bolster the side for next year, keep the spine and add to that.
"Another portion was to bring in the 12s and 13s on the academy side and also to bolster the grounds for training and academy sides, ideally at the university.
"There are phases after that but that's the start of what we're doing."
Nelms explained that his previous involvement in football was with the American lower league team the Austin Aztex, which dissolved in 2010 and moved to Florida to become Orlando City.
There he had to battle with a sporting public that was fully engaged with gridiron American football to get fans along to games.
Nelms believed his creative model of marketing the team, as well as working with successful Major League Soccer team Houston Dynamo, would have worked well in Scotland.
He said: "I worked at Austin Aztecs and now Orlando City. We have a big college programme here and American football takes up all the fan dollars.
"We have to very creative to get casual fans to games.
"We work with Houston Dynamo to train young players and their coach was very interested in how we would make it work at Dundee.
"That, along with the investment and our understanding of the game is why we should be welcomed.
"It's not a takeover, it's a collaboration."