Explained: the SFA's disciplinary points system
In most cases, yellow cards carry a three point penalty tariff. But the SFA's disciplinary rules aren't as black and white as some believe.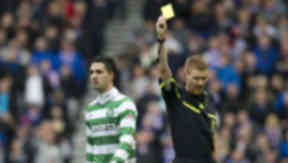 In order to receive a suspension for a succession of yellow cards in Scottish football, a player has to record 18 disciplinary points against their name on league business.
In most circumstances, a sixth yellow card of the campaign results in a minimum one match ban, which kicks in 14 days after the points total is breached.
Whilst most bookable offences carry an automatic three penalty points, the Scottish Football Association's disciplinary rules also determine that certain yellow cards are punishable by a lesser tariff.
Ultimately, this means a player can be booked six times in a campaign but not incur a suspension, as in the recent case of Celtic's Daniel Majstorovic. The Swedish defender, who went into a game with Dundee United on 15 penalty points, was shown a yellow card at Tannadice.
But the foul for which he was booked, a deliberate handball, is not punishable by the same number of penalty points as other offences. Of the 17 bookable offences which can be reported by a referee, both handling the ball deliberately and obstruction involving bodily contact add just two points to a player's disciplinary record.
Of the 13 cases of unsporting behaviour punishable by a yellow card, 10 types of fouls incur three points. Deliberately tripping an opponent, recklessly dangerous play, deliberately playing an opponent's leg or legs, adopting a threatening and/or aggressive attitude, holding or pushing an opponent, time wasting, shirt pulling, feigning injury, simulation and all other actions deemed by the referee to be inflammatory all carry three penalty points.
All other offences deemed by the referee to be unsporting behaviour carry a punishment of one penalty point.
Yellow cards shown for dissent by word or action and persistently infringing the laws of the game also carry three points, while delaying the restart of play by failing to move the required distance back from the ball and entering or leaving the field without the referee's permission carries a punishment of one penalty point.
If a player accumulates 18 penalty points in a league competition, they then face the prospect of longer suspensions if they continue to add to their tally. Over a period of two seasons, if a player again reaches 18 points, their suspension is increased by one match each time they go through the threshold.
However, a player's record cannot rise above 18 points. If the tally is reached, their disciplinary total automatically returns to the bottom end of the scale. Typically, this would be reset to zero but, if a player accumulates, for example 19 points, their new record will begin with one point.
With regards to red cards, serious foul play and violent conduct carry punishments of 12 penalty points and an automatic one match suspension, while a dismissal for spitting at an opponent or any other person also incurs 12 points and a two match suspension.
Denying an obvious goal scoring opportunity, as defined by law 12 of the game, will see five penalty points added and a one game ban. Offensive, insulting or abusive language incurs eight points, plus an automatic one game suspension.
If a player is sent off for two yellow cards, the penalty points total recorded is the combined total of the two offences for which he was cautioned, with a one match suspension also applied.
DISCIPLINE POINTS TABLE
Yellow cards
Three disciplinary points are added to a player's record upon receiving a yellow card for:
deliberately tripping an opponent
recklessly dangerous play
deliberately playing an opponent's leg or legs
adopting a threatening and/or aggressive attitude
holding or pushing an opponent
time wasting
shirt pulling
feigning injury
simulation
dissent by word or action
persistently infringing the laws of the game
all other actions deemed by the referee to be inflammatory
Two disciplinary points are added to a player's record upon receiving a yellow card for:
deliberate handball
obstruction involving bodily contact
One disciplinary point is added to a player's record upon receiving a yellow card for:
delaying the restart of play by failing to move the required distance back from the ball
entering or leaving the field without the referee's permission
all other offences deemed by the referee to be unsporting behaviour
Red cards
12 disciplinary points are added to a player's record upon receiving a red card for:
serious foul play
violent conduct
spitting at an opponent or any other person
Eight disciplinary points are added to a player's record upon receiving a red card for:
offensive, insulting or abusive language
Five disciplinary points are added to a player's record upon receiving a red card for:
denying an obvious goal scoring opportunity