Costs could mean Lowland League is short-lived, says club chairman
Club chief wants clarity on how many clubs can afford ground upgrades to meet league criteria.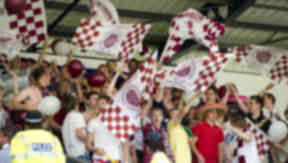 The head of a leading junior club fears a new Scottish Lowland League could be short-lived if teams are forced to spend big to meet licencing criteria.
Linlithgow Rose president Les Donaldson is concerned that implementing the new league for next season could leave clubs facing a race to get the grounds compliant in time for 2015/16, when the requirement Scottish FA entry level licence comes into full effect.
Currently just three of the potential participants – Spartans, Preston Athletic and Threave Rovers – hold such a licence.
The Scottish FA requires clubs to have an acceptable standard of PA system, exit signs, refreshment facilities, parking and a boundary wall of at least two metres, to gain entry level.
Inside the ground dressing rooms must fit 22 people, with a minimum of two toilets and five showers for each. In addition, clubs must provide a covered area for at least 100 spectators.
Donaldson supports the implementation of a pyramid system and believes that the Lowland League will be good for Scottish football.
However the Rose president is concerned that if the new set up is rushed through, some clubs may then have to drop out of the league when the licences come into force.
He said: "There are only three clubs licensed at the moment and it's going to cost clubs thousands of pounds to achieve that.
"There is no point in going on unless the league can help aid teams with finance.
"It will be a big thing for a junior club to go for this because we have already got a good set up and big games.
"The major problem is finance – where is that going to come from? To put in a disabled toilet can cost upwards of £5000 when you factor in planning applications, site visits and the rest of it.
"We definitely think it will be good for Scottish football but there needs to be more work before people are encouraged about it.
"What would be the point in a 16 team league if ten of them have to leave again because they couldn't get a licence?"
Should the plan for the Lowland League progress in the coming weeks, Rose plan to give their members a vote on whether they will apply to join.
The club president added: "We will put it to our members once we have flesh on the bones. We certainly have to look at it.
"I don't think anyone would dispute the pyramid system is for the good of the game but we have to get clarity on certain things."