Man who brought Abramovich to Chelsea to oversee Hearts administration
Former Stamford Bridge chief executive to head up operation to rescue Hearts.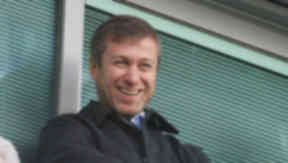 The man who brought Roman Abramovich to Chelsea is set to oversee the administration process at Heart of Midlothian.
Trevor Birch, the former Stamford Bridge chief executive who brokered the deal for the Russian billionaire to purchase Chelsea for £140m in 2003, is expected to head up the operation to save Hearts in his capacity as an insolvency expert at BDO.
He will be joined at Tynecastle by Bryan Jackson, who is also in charge of the administration of Dunfermline Athletic.
Birch, 55, also held high powered positions at Sheffield United and Derby County, before seeing Portsmouth through to a successful buy-out from administration last year.
The business restructuring executive had a modest career as a player with Shrewsbury Town, Chester City and Runcorn before taking up roles off the field.
BDO were appointed as Hearts administrators on Wednesday.
The club had originally hoped to appoint KPMG to the job but moved instead to BDO after discussions with the major creditors in Lithuanian, Ukio Bankas and UBIG.