Neil Lennon excited by Celtic's 'best and worst' Champions League group
The Celtic manager says matches against Barcelona, Milan and Ajax are for fans to savour.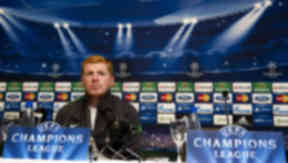 Celtic manager Neil Lennon has spoken of his excitement after Celtic were drawn against Barcelona, AC Milan and Ajax in the group stages of the Champions League.
Celtic qualified for the elite round of the competition after beating Shakhter Karagandy 3-0 at Celtic Park to win their play-off tie 3-2 on aggregate. Their reward was a glamorous but tough group where all four sides are former winners of the European Cup.
Lennon acknowledged the status of Celtic's opponents and said that there would be memorable occasions for the club's fans.
"It's obviously very exciting," the Celtic boss said. "Best and worst group we could have got.
"In terms of glamour, you couldn't have asked for anything more and in terms of difficulty you couldn't have asked for anything more.
"Ajax were with Dortmund and Man City last year and came third in the group. Milan have been in transition but are coming on strong again.
"They beat a very good PSV team to qualify so pedigree is unquestionable. And we're going to see our old friends Barcelona again."
Celtic were drawn against Barcelona in the group stage of the competition last year, alongside Spartak Moscow and Benfica. After losing 2-1 to the Catalan giants in Barcelona, Celtic won by the same scoreline on a memorable night at Celtic Park.
That result helped Celtic to a place in the last 16 but Lennon said that he felt it would be a tough task to repeat that achievement.
"It will be very difficult to emulate last year," he said. "Qualifying for group stages was huge. If we can get anything else out of it so be it.
"Pressure is off as don't think anyone has huge expectations on us to qualify, although some of our fans will be expecting that."