Explained: Why Manchester United's Adnan Januzaj can't play for England
The FA are keen on the midfielder but a home nations rule forbids naturalisation of players.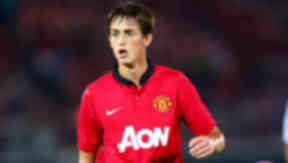 The arrival of Adnan Januzaj on the big stage with Manchester United, marked with two goals in a win over Sunderland, prompted England manager Roy Hodgson to state his interest in capping the player.
The Belgian-born player, who is eligible to play international football for Albania, Serbia and Turkey as well as for the country of his birth, moved to England in 2011.
Hodgson revealed on Saturday that the Football Association had enquired about the possibility of one day capping the 18-year-old under FIFA's residency rules, with his club boss David Moyes also confirming the possibility of Januzaj turning out for England had been raised.
"Yes [he could play for England] down the line if he becomes naturalised or if he becomes a homegrown product," Hodgson said on Match of the Day. "He's been with United for a long period of time and of course that discussion will have to be seriously debated before we start naturalising players."
Players are often naturalised by other football nations as permitted by FIFA's statutes, which state a player can become acquire a different nationality to that of his birth country if "he has lived continuously for at least five years after reaching the age of 18 on the territory of the relevant association."
Diego Costa provides the most recent example of this. The 24-year-old Brazilian, who hasn't been capped in competitive games by his country, is currently trying to switch his allegiance to the Spanish national side on account of having been with Atletico Madrid since 2007.
However under the terms of an agreement between England, Northern Ireland, Scotland and Wales, the Football Association have no hope of capping Januzaj should the opportunity present itself in 2018.
The "home nations" agreed to opt out of the residency rule in 2009. FIFA's statutes state that "associations sharing a common nationality", as is the case with the four nations, can make an agreement to remove the residency clause. Said agreement exists between the four associations.
As an alternative, the four nations can make a claim to naturalise a player if he received a minimum of five years education on the association's "territory" before his 18th birthday.
The rule allows Andrew Driver, born in England, to represent Scotland. It was first successfully used by former St Mirren man Andy Dorman, also born in England but who has now gone on to represent Wales.
Januzaj hasn't received the required length of education in England, having spent just two years in the country, and the rule does not apply to him.
All said, he could acquire British nationality and the Football Association could attempt to make a case to claim him. It would require a major change to an agreement which the home nations have chosen to stick to previously, despite the prospects being raised of Manuel Almunia playing for England, or Nacho Novo for Scotland.
In any case Januzaj, aged 18 and seemingly on an upward curve, will likely be playing international football for one of the many nations he is currently eligible for before England are anywhere near able to present a case in February 2018.