Holmbert Fridjonsson confident of goals for Celtic after 'hitting the gym'
The 20-year-old will officially join the club on January 1, having signed a three-year contract.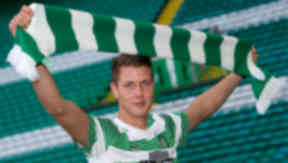 Holmbert Aron Fridjonsson believes he will have plenty to offer Celtic once he adapts to the physical nature of the Scottish game.
The 20-year-old signed a three-year contract on Wednesday ahead of his £100,000 transfer being formally completed on January 1.
Fridjonsson has only played in the Icelandic leagues so far in his career, scoring 12 goals in 23 appearances in 2013, but believes he can work his way into contention for the second half of Celtic's 2013/14 campaign.
"I'll try to score goals," he said. "That's what I do. Hopefully I can do that for Celtic fans.
"I can play up alone. I can hold up the ball well and link players to the game. I've got good technique and I'm good in the air. I've a good left foot.
"This is just the biggest [step up]. I'm really delighted.
"The physical side is more so I need to get to the gym, I think, then hopefully I can adapt pretty well.
"I think I can be ready. I just have to work hard. I'm not going to walk into the team, that's for sure."
Having seen Celtic play in the UEFA Champions League, and having heard complimentary remarks from the likes of Lionel Messi over the atmosphere at Parkhead, Fridjonsson says it was an easy decision once the Scottish champions came calling.
He added: "I've seen them play in the Champions League from Iceland, so I know some of the boys here.
"When Celtic came in, there was nothing to decide, it was just Celtic."