Monterrey striker claims Celtic interest
Mexican forward Aldo de Nigris has said a move to Scotland is among the options he has for a summer transfer.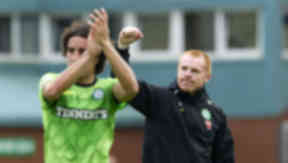 Monterrey striker Aldo de Nigris has said that he has had discussions about a possible move to Celtic this summer.
The Mexican international revealed that there are at least three clubs interested in his services and that a switch to the Scottish Premier League is one of the options he has discussed. De Nigris has been named in Mexico's squad for the Gold Cup in June but is expected to be moving to a new club when the North American tournament is over.
Spanish side Deportivo La Coruna and an unnamed English team are also vying the striker's services but he says he has had no firm offer as yet.
"We've talked a little about that [going to Celtic in Scotland], De Nigris told Mexican newspaper Record.
"I can not say anything, I just know that there are options in Spain, in England and in Scotland, but I don't know yet if it is something solid.
"The English side would be a good team. We'll wait, my agent has told me that I can not say anything. I have to wait for the papers, take the proposal to the board and then I'll be happy to comment."
De Nigris added that if a move did not materialise he would be happy to stay at Monterrey but said that playing in another country would be a "dream".
"I'm not going to go crazy about the chance to move abroad and fulfill a dream when I'm in a great team," he said. "[Monterrey is] a great institution that has given me a lot. I'm very happy, you have to look at options and if given, that is the best way. "
The striker has scored six times in the opening tournament of the Mexican league this season. De Nigris has been at Monterrey since 2009 after joining the club on loan from Necaxa, making the move permanent a year later.
If Celtic were to pursue their interest in De Nigris, he could team up with a fellow international at Parkhead. Efrain Juarez made the switch from Pumas last summer but has found his first team opportunities restricted in Neil Lennon's side.