Neil Lennon says paying £6m for one player is not beyond Celtic
The Hoops boss says there has been no contact with Sunderland for Steven Fletcher.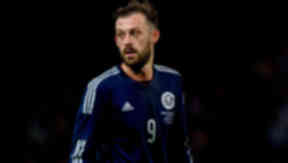 Celtic manager Neil Lennon says paying £6m for one player is not beyond the Parkhead club but adds there's been no contact with Sunderland over a move for Scotland forward Steven Fletcher.
The Scottish champions have been linked with a move for the 26-year-old, who moved to the Black Cats from Wolves for £12m back in 2012.
The Northern Irishman says he is a fan of the player but added no contact has been made with the English Premier League club.
When asked if a £6m fee would put the club off bidding for any player, Lennon replied "No, but people are quoting £6million pounds, but he (Fletcher) was bought for £12million.
"I know transfer fees change over the years but he is a youngish player still so I would imagine it might not be £6million we are talking about.
"He is a player that I think most teams in Britain would like but affordability might be a problem for us though. Could we afford to spend £6million for one player? Yes, we could."
Asked about a potential deal for the former Hibernian and Burnley forward, Lennon added: "No, not at all. It is speculation. I don't know where this story has come from, I honestly don't.
"I don't know why I am sitting here five minutes into my press conference answering questions on him."
The Celtic boss was also asked about the possibility of breaking the club's wage structure to bring in a high-profile transfer target.
He said: "I don't know, you would have to ask the board that but if we are going to bring in a big-name player then wages will obviously have to come into mind when negotiating.
"I wouldn't imagine we would break it by a lot if we were going to do that."
Lennon has been keen to bring in new players during the January transfer window and he hopes to bring in one player before the club's trip to Turkey.
"What we want to do is sign players for the future, for the second half of the season and obviously with the qualifiers in mind for next year," he said.
"I think the squad needs an injection of fresh blood and that is what we are trying to do.
"We are in a position where we can spend a bit of money. It is a position we probably haven't been in for quite a considerable time, a position as strong as this, and we will endeavour to bring quality in.
"That is what I want to do.
"It is very difficult in the climate we are in, we have to sell at times to make ends meet but we have done that this season so we are looking to forge ahead."