Scotland fall into pot four for 2014 World Cup draw
Euro 2012 qualifiers and friendly results mean the seedings will put Craig Levein's side in a hard position to get to South America in 2014.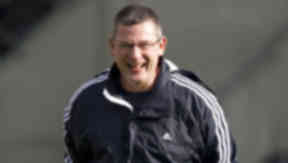 Scotland have fallen two seeding levels and will be in pot four for next month's World Cup draw in Brazil.
After the latest round of Euro 2012 qualifiers and friendlies, the seedings have become clear and Craig Levein's side will face a tough task to get to South America in 2014.
Although not official yet FIFA will confirm the seeding places in July, with the draw being made in Rio on July 30.
Other countries in the fourth pot include Austria, Bulgaria, Romania, Lithuania, Albania, Northern Ireland, Georgia and Poland.
For the 2010 group qualifying stages, Scotland were placed in pot two. They then finished third behind Norway and group winners Holland. Macedonia and Iceland were also in the group.
**Pot one: **Spain, Holland, Germany, England, Portugal, Italy, Croatia, Norway, Greece
**Pot two: **France, Montenegro, Russia, Sweden, Denmark, Slovenia, Turkey, Serbia, Slovakia
Pot three: Switzerland, Israel, Republic of Ireland, Belgium, Czech Republic, Bosnia-Herzegovina, Belarus, Ukraine, Hungary
Pot four: Bulgaria, Romania, Georgia, Lithuania, Albania, Scotland, Northern Ireland, Austria, Poland
Pot five: Armenia, Finland, Estonia, Cyprus, Latvia, Moldova, FYR Macedonia, Azerbaijan, Faroe Islands
Pot six: Wales, Liechtenstein, Iceland, Kazakhstan, Luxembourg, Malta, Andorra, San Marino.
IN DETAIL